Almost eight in ten people intending to vote Conservative believe claims from Theresa May that the EU is trying to affect the outcome of the election
Announcing the official start of the general election last week in an address outside 10 Downing Street, the Prime Minister accused the EU of trying to influence the forthcoming vote. Following leaked accounts of a dinner including Theresa May, Brexit secretary David Davis and President of the European Commission Jean Claude Juncker that cast the PM in a bad light, May said that EU officials and politicians were trying to affect the course of the election by making threats against the country and misrepresenting Britain's negotiating position.
Now new YouGov/Sunday Times research reveals that the majority of Brits (51%) believe that the Prime Minister's accusation is "probably true", and that EU officials and politicians are deliberately trying to influence the general election. This is more than double the proportion of people who think the claim is "probably false" (24%). A further 25% of Brits don't know what to make of the accusations one way or the other.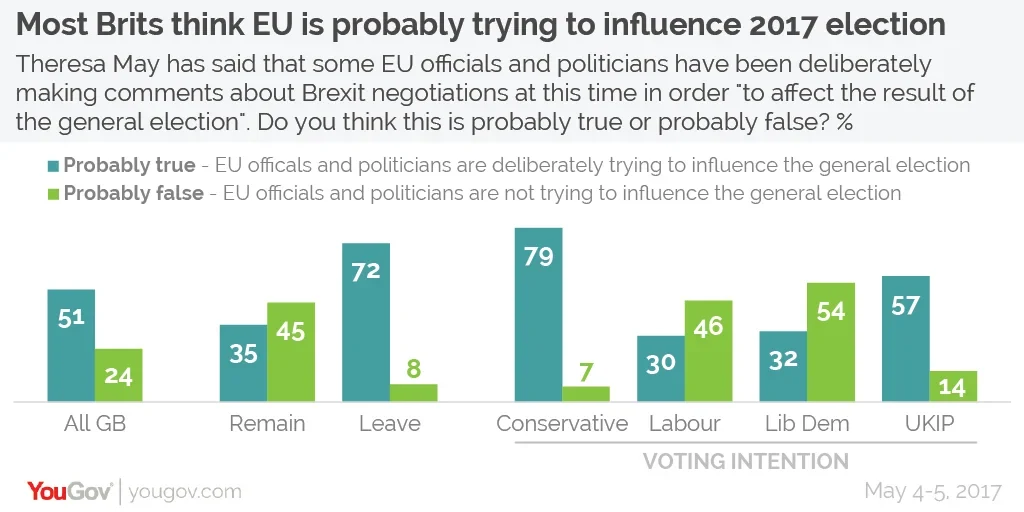 Whether a person believes the Prime Minister's accusations seems to come down to partisan position. Those planning to vote Conservative are overwhelmingly likely to think that the EU is probably trying to influence the election, with nearly eight in ten (79%) Tory supporters believing the claims. Leave voters are also highly likely to think the EU is trying to impact the vote (72%), as are UKIP voters (57%).
However, Remain voters and those who plan to vote Labour or Liberal Democrat are more likely to think the claims are "probably false", at 45%, 46% and 54% respectively. Nevertheless, close to a third from each group (35%, 30%, 32%) still think the EU is probably trying to influence the election.
Photo: PA