Britons' perceptions on who would be the better French president for the UK are heavily determined by their own politics
The second and final round of the French presidential election will take place on 7 May, with centrist former finance minister - and favourite to win - Emmanuel Macron facing off against the far right candidate Marine Le Pen.
Along with Germany, France is one of the key pillars of the European Union, and the choice of French president could have big implications for the UK negotiations to leave the EU. With this in mind, YouGov asked the British public which candidate they thought would be better for Britain.
The results show a near-even split, with 23% thinking Macron would be better for Britain and 21% choosing Le Pen. A further 13% of people expect things to be roughly the same whichever candidate wins.
LIVE SURVEY RESULTS
Unsurprisingly, given it is likely that a large proportion of the British public aren't following the French presidential election, 43% don't know.
Which side of the Macron / Le Pen divide Brits fall depends heavily on their politics – especially how they voted in the EU referendum. Remain voters think Macron would be better for Britain by 45% to 9%, while Leave voters think Le Pen the superior choice by 37% to 6%.
There are similar splits among supporters of different parties. UKIP voters prefer Le Pen to Macron by 49% to 3%. Conservatives also think Le Pen would be better (by 29% to 18%). By contrast, voters for the left wing parties all prefer Macron over Le Pen by similar proportions: 33%-38% against 12%-15%.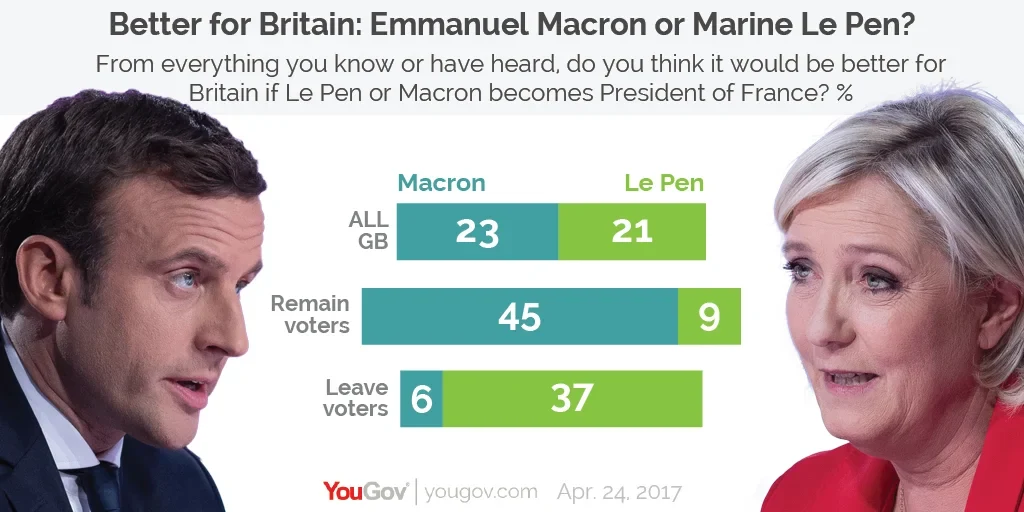 Many think that Macron would make Brexit negotiations tougher for Britain, although sources close to the candidate reportedly say that his stance in office would be softer than it has been on the campaign trail. By contrast, Le Pen has publicly criticised as "blackmail" the EU's behaviour towards Britain after the Brexit vote, and has indicated she would be an ally to Britain as a departure deal is hammered out.
Photo: PA