New research from YouGov's Children's Omnibus shows children are much less likely to eat breakfast at the table than dinner
It has long been held that the traditional practice of families eating around a table together can be enormously beneficial to children. Eating together as a family can help to teach them important social skills, while those who eat with their parents are also less likely to be truant from school and are less likely to be obese.
Now, new research from YouGov Omnibus among 1,789 children finds that one in three (34%) eat their evening meal in front of the TV while around three in ten (29%) do the same for breakfast.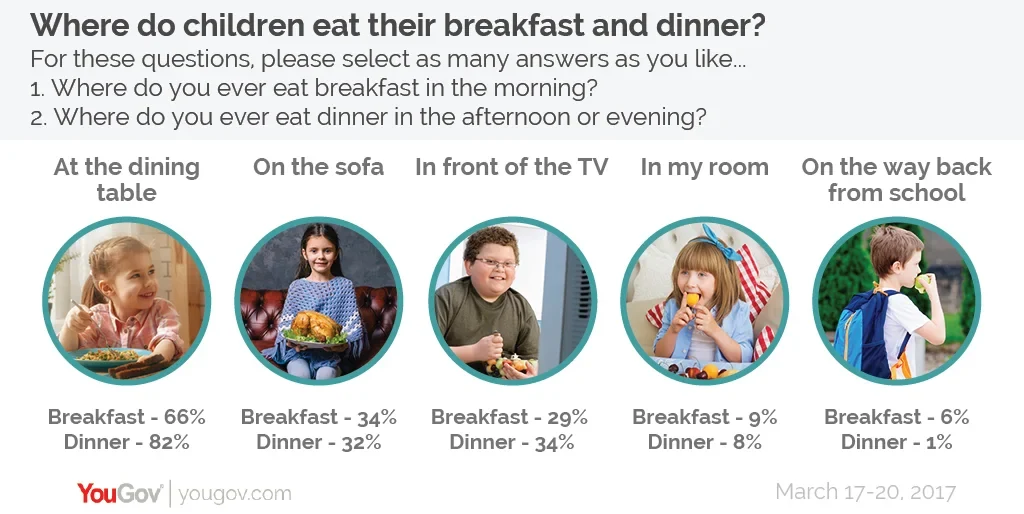 Unsurprisingly, children are about as likely to eat on the sofa as they are in front of the TV – as in many cases the two will be combined. In each case, about a third of children (32% for breakfast and 34% for dinner) chow down while on the settee.
However, this does not sound the death knell for the family meals around the dining table. The results show that eight in ten (82%) of children have tea at the table, although only two thirds (66%) eat breakfast there.
The research suggests that children become less sociable with their meals as they get older. The proportion that sometimes take their dinner to their own room rises from 1% of six year-olds (the youngest children to be surveyed) to 19% of 15 year-olds (the oldest). Likewise, 22% of 15 year-olds ever have breakfast in their room, compared to just 2% of six year-olds.
Only a very small minority of children ever eat on the way to or from school. Just 6% have breakfast on the journey in (again, this tends to be older children), and 1% eat dinner on the route home.
Photo: iStockphoto