YouGov data shows how beards have become more popular since 2011, especially among younger Brits
You only have to walk down the street to notice that beards are back.
The latest facial hair trend has been attributed to the 2013 movie awards season, when a gaggle of top male actors, including George Clooney, Ben Affleck and Bradley Cooper attended the Baftas and Oscars with full beards.
YouGov research shows that, over the five years from August 2011 to November 2016, Britain has seen an increase in the proportion of men sporting facial hair. In mid-2011, 37% of men had some form of facial hair – by late 2016 this had risen to 42%.
Most of the growth in face fuzz has come from beards: 44% of men currently sporting facial hair now have full beards, up from 29% five years ago. By contrast, the proportion of men with stubble has been shaved significantly. Whereas in 2011 more than half (52%) of men with facial hair had stubble, this has now dropped to 40%.
Translating these figures to the male population as a whole, this means that while 58% of British men have no facial hair, 18% now have full beards (up seven points), whilst 17% have stubble (from 19% previously).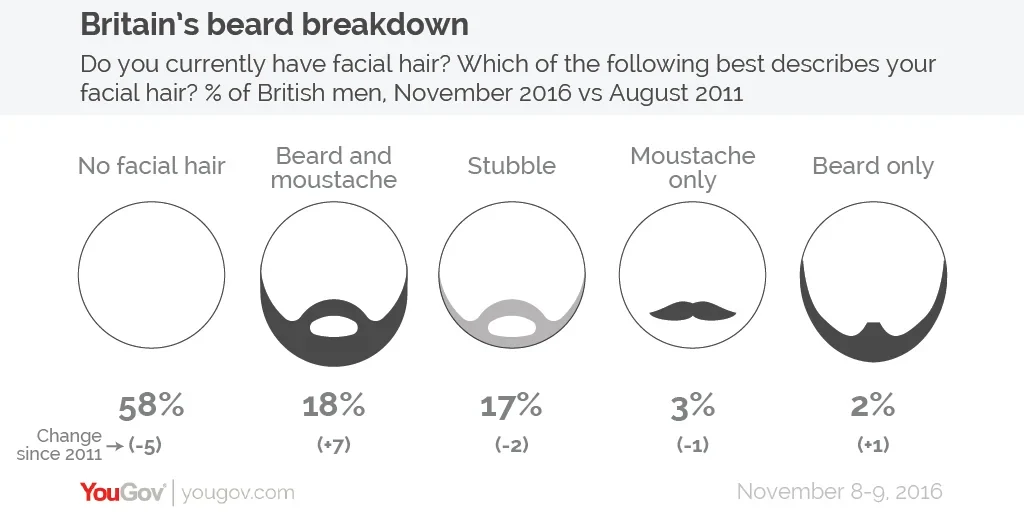 Facial hair is even more prevalent among younger British men. More than six in ten (61%) 18-39 year olds now say they have some form of facial hair, compared to 43% back in 2011.
There have been particularly rapid levels of beard growth among younger men. Back in 2011, stubble was by far the most common styling among 18-39 year-olds with facial hair, at 72%. By 2016, however, this figure had been trimmed back significantly to just 45%. Meanwhile the proportion of under-40s with full beards rose from 18% to 44%.
Beards are growing on British women
At the same time British women now disapprove less of men with facial hair. When asked in 2011, two thirds (66%) said that they preferred the appearance of a man without a beard, but when we asked at the end of last year this had dropped to 46%.
Younger women in particular are coming round to beards. Whilst just 7% of women aged 18-39 preferred a man with a beard in 2011, this has since tripled to 21%. Only a third (34%) of 18-39 year-old women say they prefer the appearance of a man without a beard, less than half the level it was in 2011 (71%).