Which Labour politicians would be well-placed to replace or succeed Jeremy Corbyn as leader of the party?
As we approach the second anniversary of Labour's 2015 electoral defeat, rumours are mounting that we could also be heading towards the party's third leadership election in two years.
With the contest now in danger of becoming an annual event we wanted to see how some of the potential contenders stack up in the eyes of the general public. To do this we tested current leader Jeremy Corbyn and some of the bookies' favourites to replace him across two measures:
Awareness – what percentage of the population have heard of them before
Likeability – of those that recognised the politician's name, did more say they "like" or "dislike" them
The first finding, as is often the case, is the low level of name recognition many politicians have outside the "Westminster bubble". Of the 20 politicians we put to the public only six had an awareness score of more than 50%. Current leader Jeremy Corbyn and former leader Ed Miliband had almost universal awareness at 94% and 93% respectively.
London Mayor Sadiq Khan is known to three quarters (74%) of Britons whilst 60% have heard of former shadow foreign secretary Hillary Benn (whose sacking triggered Labour's last leadership election). The top six is rounded off by previous leadership contenders Yvette Cooper and Andy Burnham (59% and 54% respectively).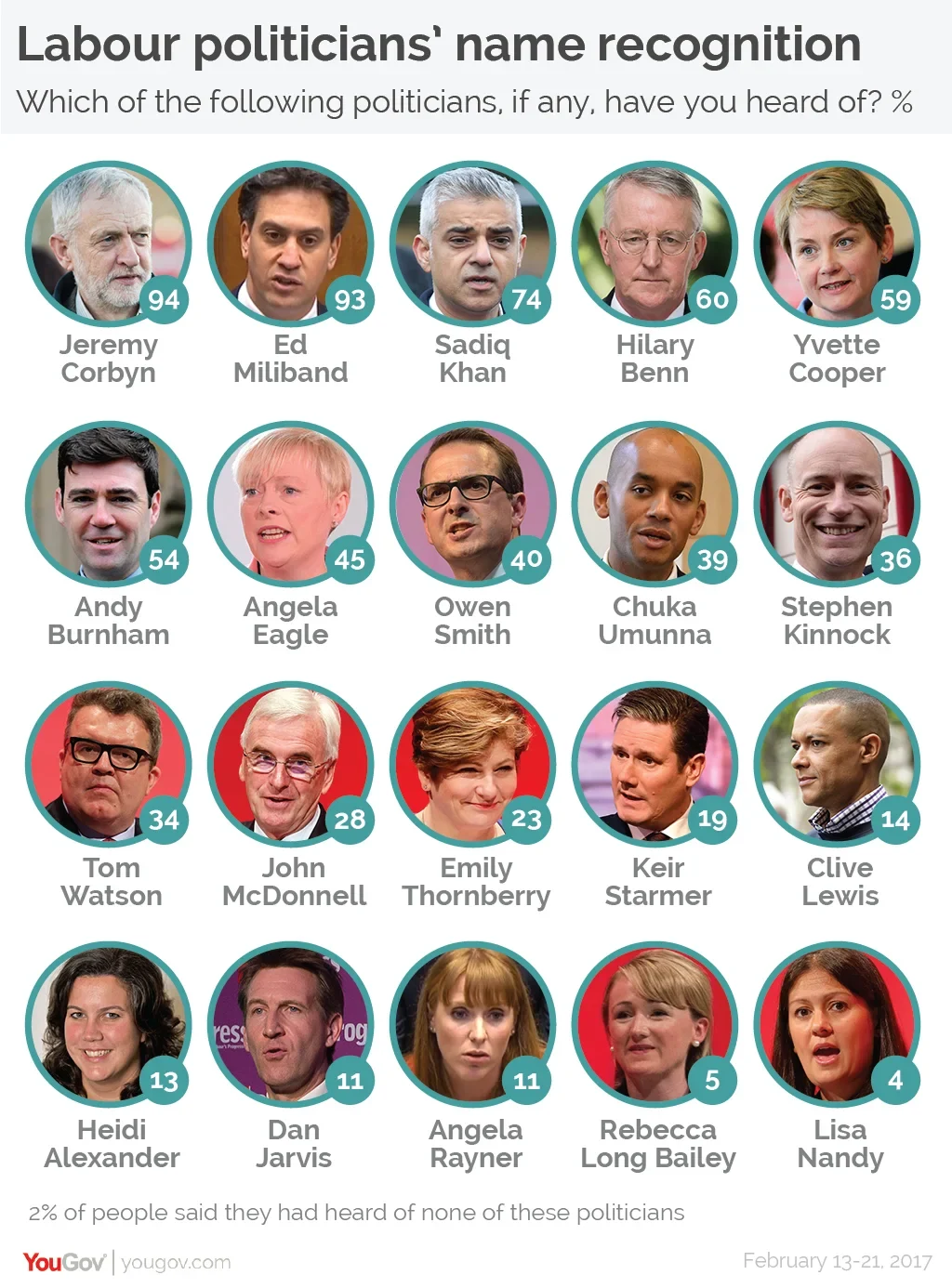 Following his run at the Labour leadership last summer, Owen Smith's name recognition sits at 40%. At the bottom of the list are Dan Jarvis and Angela Rayner on 11%, Rebecca Long-Bailey on 5%, and Lisa Nandy on 4%.
But as Owen Smith's relatively decent numbers show, having low name recognition at this stage can quite easily change over the course of a contest. Furthermore, actually being the party's leader gives a politician a platform that allows people to form an opinion on them. After all, two years ago relatively few people knew about a certain veteran left-wing backbencher from Islington.
Arguably what matters more at this stage is the second metric we tested – "likeability". This asks those that have heard of an MP if they like them.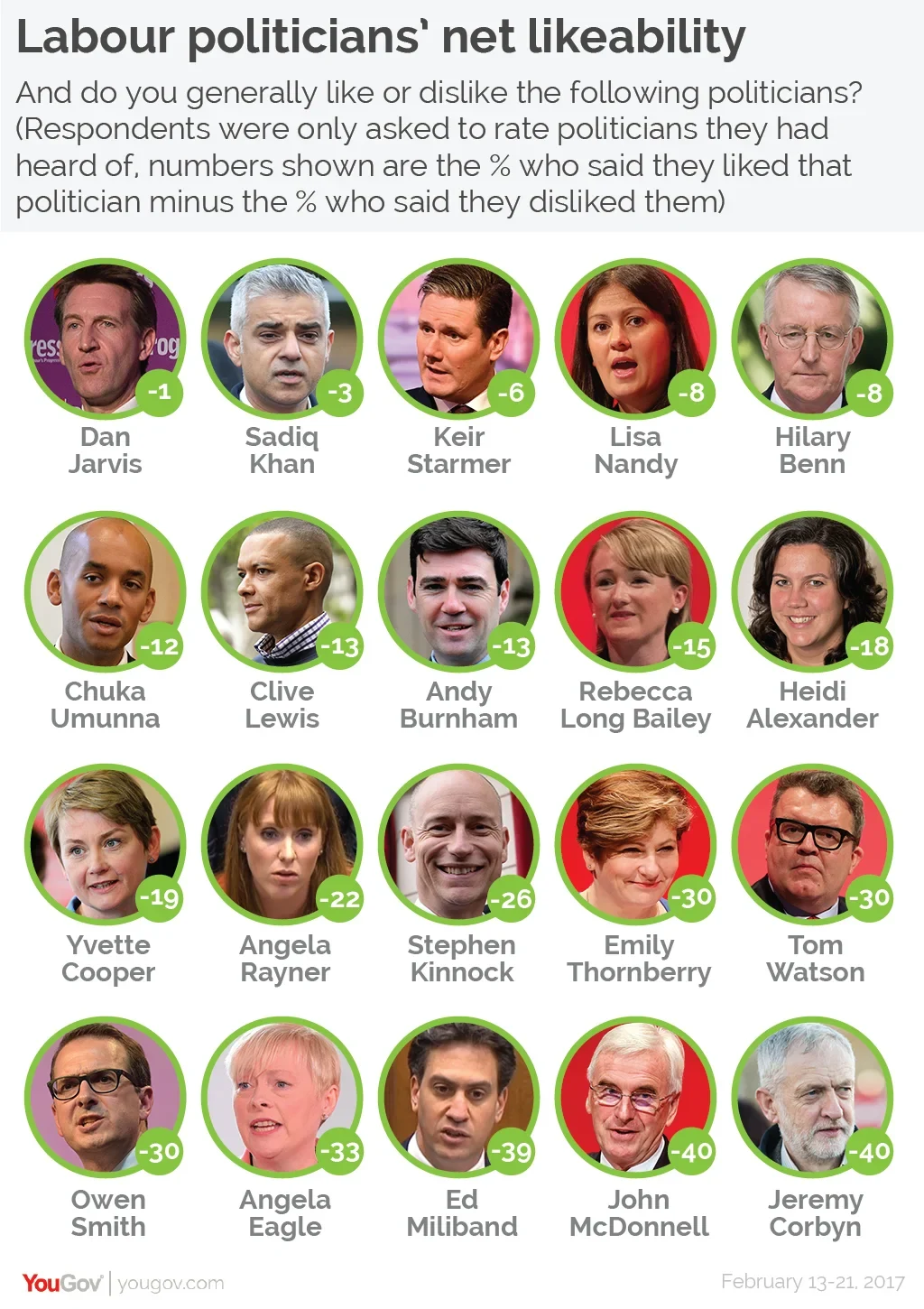 Here, the perception problems that the party has faced in recent times seem to be affecting everyone. All the politicians tested have a net negative score, with more people saying they dislike them than like them. The least disliked of those we tested are Dan Jarvis (-1), Sadiq Khan (-3), Kier Starmer (-6), Lisa Nandy (-8) and Hillary Benn (-8). The most disliked are John McDonnell (-40), Jeremy Corbyn (-40) and Ed Miliband (-39).
So what do awareness and likeability mean when it comes to being a successful leader? We can plot the two measures together on to the grid below: the more towards the right of the grid a candidate is, the more people have heard of them; the higher up they are, the more liked they are among those who have heard of them.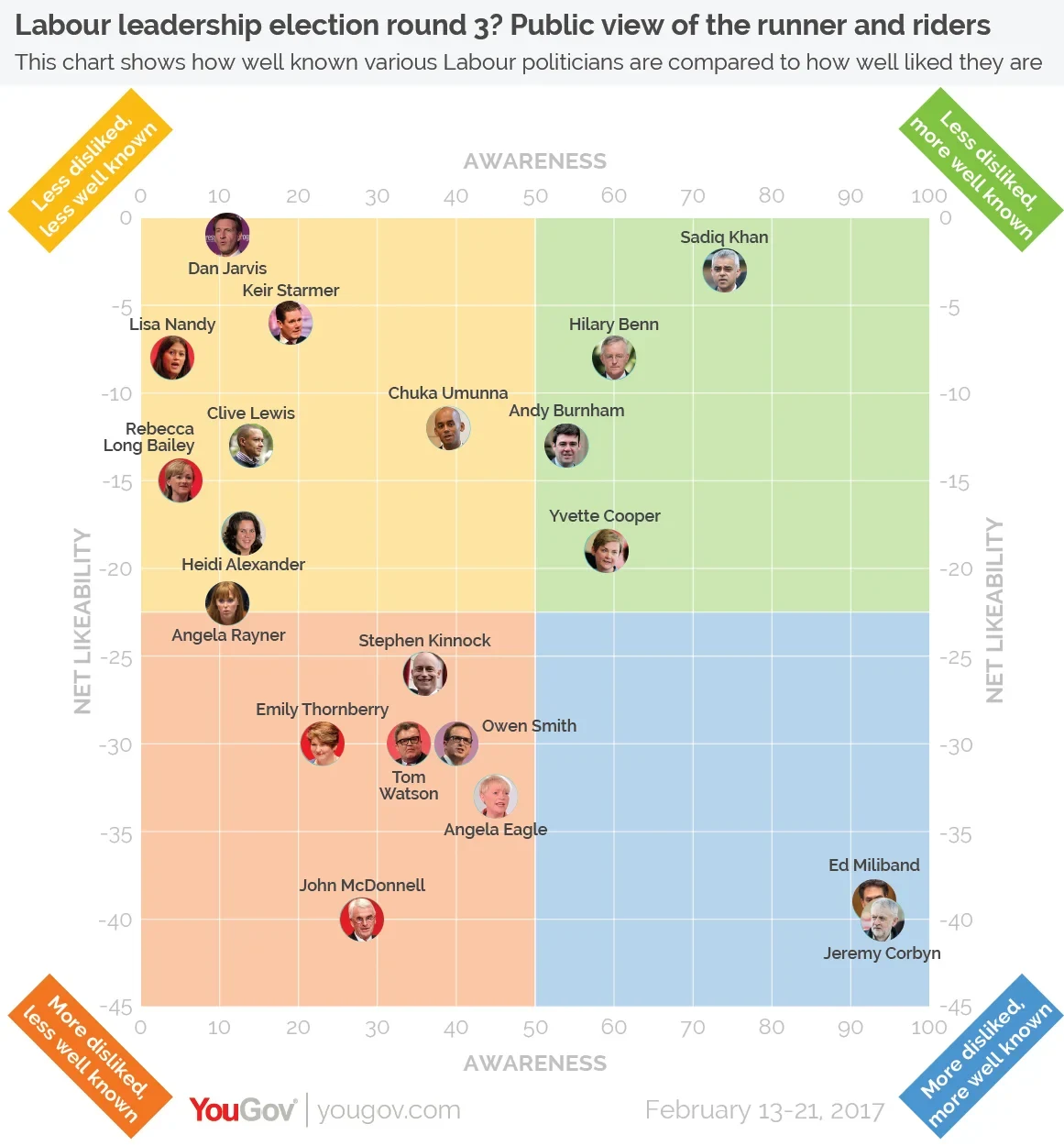 Click for larger version
On this evidence, the candidate who would make the greatest impact as leader might be Sadiq Khan. His election as Mayor of London has provided him a national media presence and in terms of likeability he outstrips almost everyone else. However, having resigned as an MP to run the capital it is unlikely that he can would get back into the House of Commons in time for contest this year.
So the party might be best looking at someone on the top left of the chart – Lisa Nandy, Dan Jarvis, or Keir Starmer. Although they aren't yet well known, those who have heard of them don't have the overwhelmingly negative feelings about them that plague many of their better-known colleagues. Being largely unknown may also give them the opportunity to shape their own image and give them more space to rejuvenate the Labour brand.
While this research gives us some indication of how successful each candidate might be if they became leader, they would still need to get elected by the Labour membership to get there. If the past two summers have taught us anything, we should perhaps expect the unexpected and keep our eyes on a maverick outsider.
Photo: PA