Top Gear fans expect The Grand Tour to be a return to form for Clarkson and co
The Grand Tour, the much awaited new motoring show from Jeremy Clarkson, Richard Hammond and James May is set to launch on Amazon Video at 00.01 tomorrow morning in Britain. The show is the spiritual successor to the presenters' time hosting Top Gear on the BBC.
Amazon will be hoping to capitalise on the BBC's troubled continuity edition of Top Gear – the most recent season of which was acrimoniously hosted by Chris Evans and Matt LeBlanc – in order to draw fans to subscribe to their premium service Amazon Prime to watch the new show.
Amazon are banking big time that The Grand Tour will boost Prime's subscriber base, currently advertising the show alongside a discount for the service that ends the day the show airs. Speaking ahead of the launch of the new show, producer Andy Wilman revealed that Amazon had not attempted to interfere with the show editorially in any way, and that the internet giant was funding the show to the tune of somewhere between £1m and £4m per episode.
It all points to a belief on Amazon's part that the Clarkson, Hammond and May formula is a winning one, and will beat the BBC's continuity Top Gear for the affection of the viewers. New YouGov research indicates that they may well be right.
Our survey finds that fans of Top Gear are overwhelmingly optimistic about The Grand Tour's prospects - nearly six in ten (58%) expect it to be better than the most recent season of Top Gear. Just 4% think the BBC's current incarnation of Top Gear will turn out to be the better – 22% think the shows will be about the same.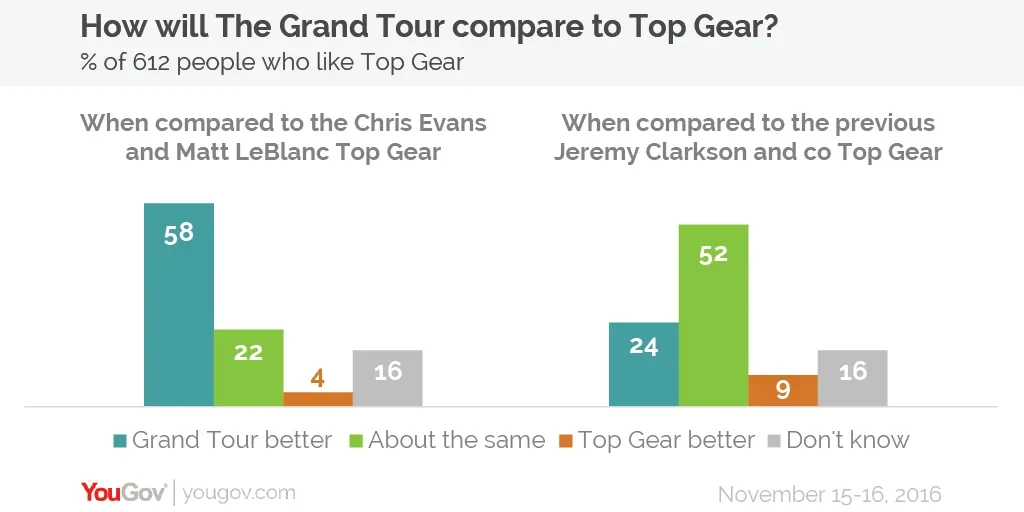 When compared to classic Top Gear, the majority of fans essentially see The Grand Tour as a return to form for Clarkson, Hammond and May, with 52% saying it will be about the same as their previous effort. A quarter of fans are optimistic the new show will be a step up, however – 24% think that Amazon's offering will represent an improvement on the trio's time at Top Gear.
Ultimately, we may never actually know which show is better. Wilman revealed that Amazon will not release viewing figures for the show, making direct comparisons of the respective success of The Grand Tour and Top Gear impossible. Instead, The Grand Tour team will be gauging the success of the new show as best they can from Twitter. But given Clarkson, Hammond and May's longevity on the BBC, if The Grand Tour is remotely as successful as Top Gear we can expect it to be an Amazon staple for a long time to come.
Photo: PA