Conservative lead continues to grow as Labour party stick at 28%
Conservative voting intention increases by an extra two points to 42% in YouGov's latest voting intention survey. Labour remain static on 28%, as do the Lib Dems on 8%, whilst UKIP are down one point to 12% and support for other parties drops two points to 10%.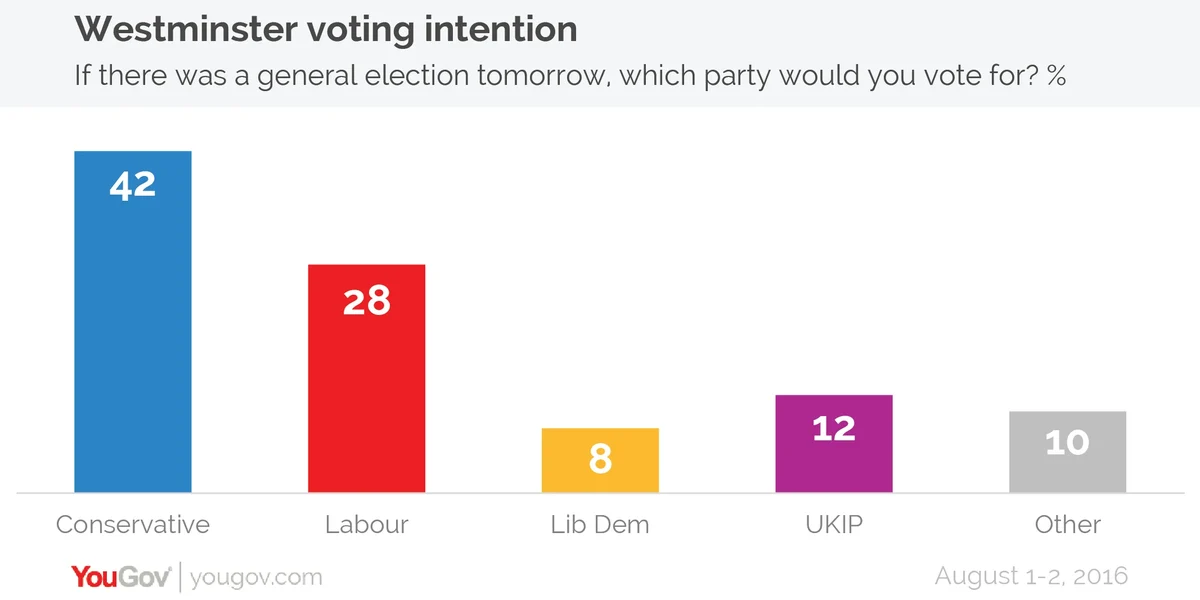 Once again, it is unclear at this stage whether the strong Conservative lead is temporary – caused by Theresa May's new prime minister "bounce" and Labour party infighting – or whether it will prove durable.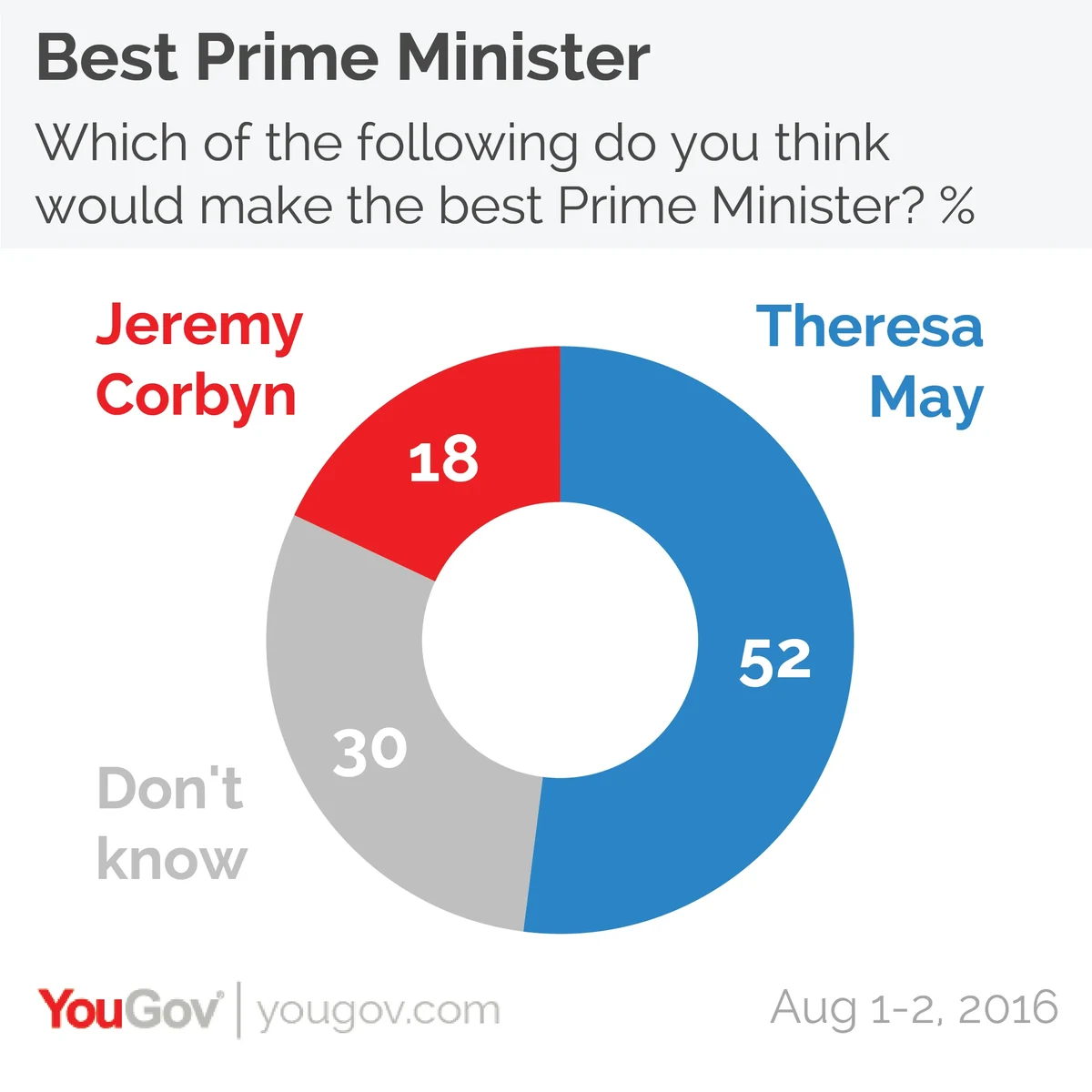 Voters also continue to significantly prefer Theresa May over Jeremy Corbyn for the role of Prime Minister by a ratio of almost three to one. With May preferred by 52% of people, Corbyn 18% and 30% unsure, the numbers exactly match those from our previous poll in late July.
On the Brexit vote, there doesn't seem to have been much of a "buyer's remorse" effect, with 46% of people believing that, in hindsight, voting to leave the EU was right, compared to 42% who felt it was wrong and 12% who don't know. Stripping out the don't knows gives 52% right and 48% wrong, mirroring the referendum result itself. Leave voters seem marginally more satisfied with their decision, with 94% believing Brexit was right, compared to 89% of Remain voters thinking it was wrong.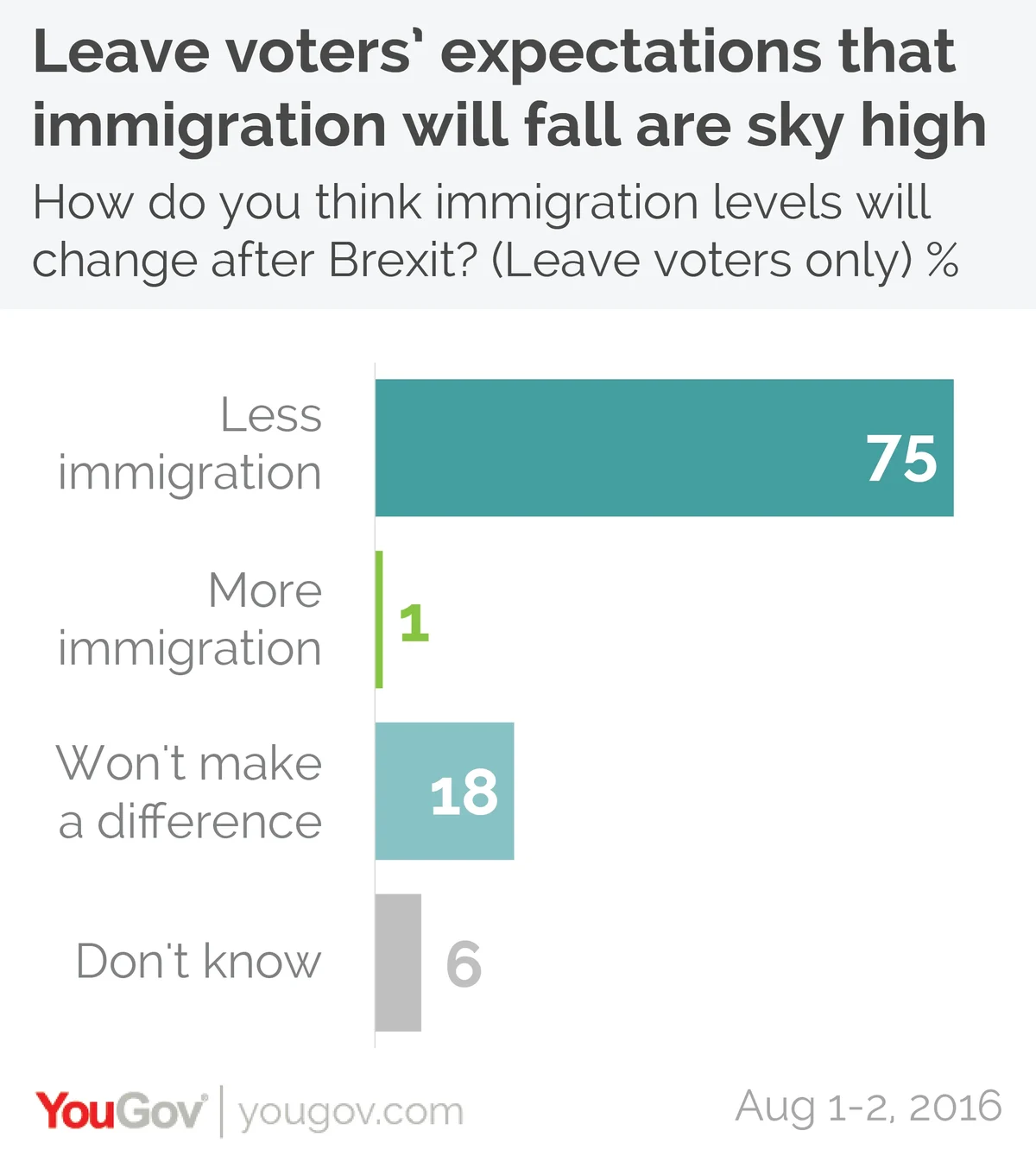 There are many who believe that the message of the EU referendum result was that immigration levels need to fall. This includes the new Prime Minister Theresa May, who in her Conservative leadership speech said any attempt to wriggle out of bringing down European migration would be "unacceptable to the public".
The extent to which the government will need to make good on that commitment has now been laid clear. Three quarters of Leave voters believe that Brexit will result in less immigration into Britain, a far higher proportion than think it will be good for the economy (59%), the NHS (59%) or jobs (49%). Expectations are sky high, and the government will likely face serious problems if it is unable to meet the expectations of Leave voters.
Photo: PA