Nearly half of the country, including over a third of Labour voters, expect Theresa May to do well as Prime Minister
David Cameron has answered Prime Minister's Questions for the last time as he hands over power to Theresa May. Prime Minister May is unlikely to enjoy any honeymoon period, however, as she enters office to deal with the huge task of extricating Britain from the European Union following June's referendum.
YouGov's latest research shows that 46% of the British public expect her to do well as Prime Minister while only 24% expect her to do badly. 31% said that they didn't know how she would perform. People who voted for the Conservatives in 2015 are, perhaps unsurprisingly, largely optimistic about her premiership (74%) but even Labour voters are not particularly pessimistic. Although 34% of Labour voters expect her to do badly, 36% expect her to do well.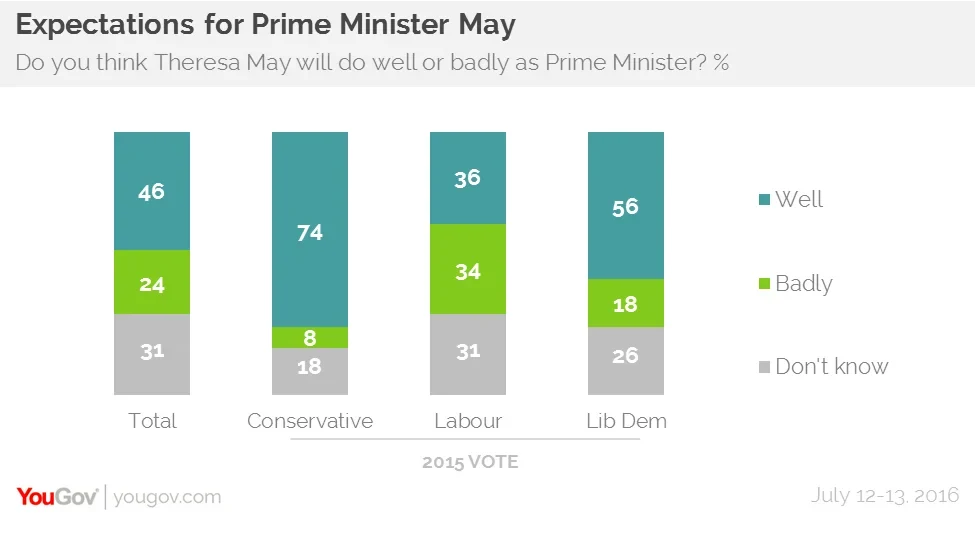 The relative optimism for May's premiership crosses the boundary between Remainers and Leavers. 50% of Remainers and 52% of Leavers expect May to do well as Prime Minister.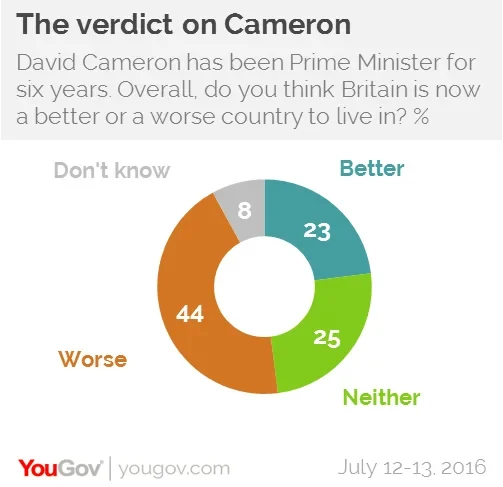 Provided with a list of positive characteristics, 36% of the public say that Theresa May is 'strong' while 31% say that she is 'decisive'. However, only 5% say that she is 'charismatic'.
While the public is relatively optimistic about Theresa May, the verdict on life under Cameron is not so good. 44% of British people say that life in the UK is worse today than it was when David Cameron became Prime Minister. 25% say that it is neither better nor worse and only 23% think that it is better.
Image from PA