Polls for Good Morning Britain (from the middle of the week) and the Sunday Times (from the end of the week) show swings towards Remain
We are now in the final week of the referendum campaign and the swing back towards the status quo appears to be in full force. We have published two polls this morning, one conducted for ITV's Good Morning Britain between Wednesday and Thursday, and one conducted for the Sunday Times on Thursday and Friday.
After the clear leads for Leave that polls were showing a week ago, both of our polls published today show the race coming back to neck-and-neck again: a two point Leave lead in the Good Morning Britain poll, a one point Remain lead in the Sunday Times poll.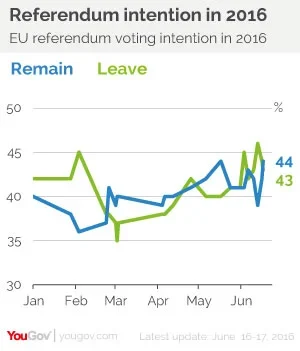 While there will be speculation about whether this movement is connected to the tragic death of Jo Cox, we do not think that it is. The fieldwork for our Good Morning Britain poll was entirely conducted before she was attacked and a third of the responses to our Sunday Times poll were also done before news of her death was reported.
The underlying figures suggest the movement may be more to do with people worrying about the economic impact of leaving the European Union. In the Sunday Times poll 33% of people said they thought that they would be personally worse off if Britain left the EU, up from 23% a fortnight ago and easily the highest we have recorded on this question.
The pattern of public opinion on the EU referendum is looking very similar to the Scottish referendum in 2014. Back then there was a long period of little movement when most ordinary voters were paying little attention, this was followed by a period of movement in favour of Yes, as people were excited by the prospect of change, followed by a sharp correction back to the status quo as, in the final days, people worried about the risks associated with it.
Public opinion on the EU looks as if it may be moving in exactly the same way, with that same late shift to Remain as people attracted to the idea of leaving the European Union worry about the risk to their economic wellbeing.
See Good Morning Britain results (15-16 June)
See Sunday Times results (16-17 June)
Image from PA