Most Londoners say Boris Johnson has done a good job as mayor and few expect Sadiq Khan to do better – but many say London life is worse than eight years ago
For some he's the charming trailblazer who regenerated East London, got the city cycling and drove crime into the ground; for others he's the clown who made London the most unaffordable city in the world, cut the fire service and spent millions on white elephant projects. In politics he's a divisive character, but the fact is that he twice won a direct mandate from a predominantly Labour city – and turned his career around to the point of being the bookies' favourite for next Prime Minister.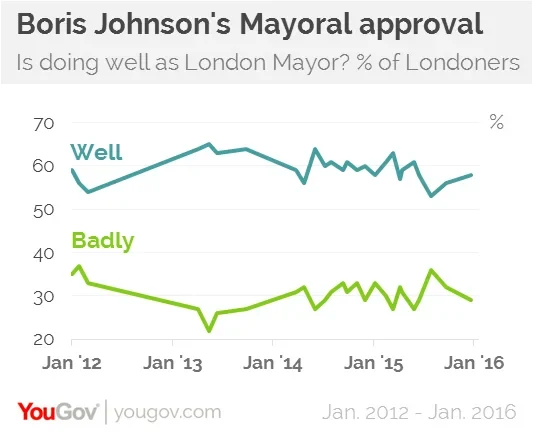 As London awaits the results for who will be Boris Johnson's successor, new YouGov research reveals the public verdict on his eight years as London Mayor.
His approval rating has been remarkably consistent during his second term as Mayor, since 2012, and has been drastically higher than most national politicians' throughout. In hindsight, the majority of Londoners (52%) say he has done a good job, while 29% say he hasn't performed well.
Only 31% say his potential Labour successor Sadiq Khan – the favourite in our final call poll – would be a better Mayor than Mr Johnson. 12% say he would be about the same and 29% say he'd be worse. This is better than can be said for Conservative Zac Goldsmith, however, as only 11% say he'd do a better job.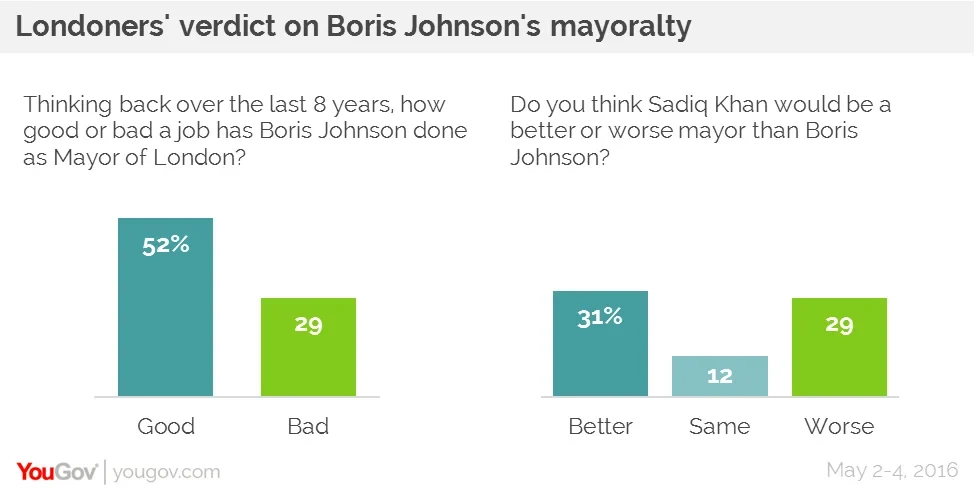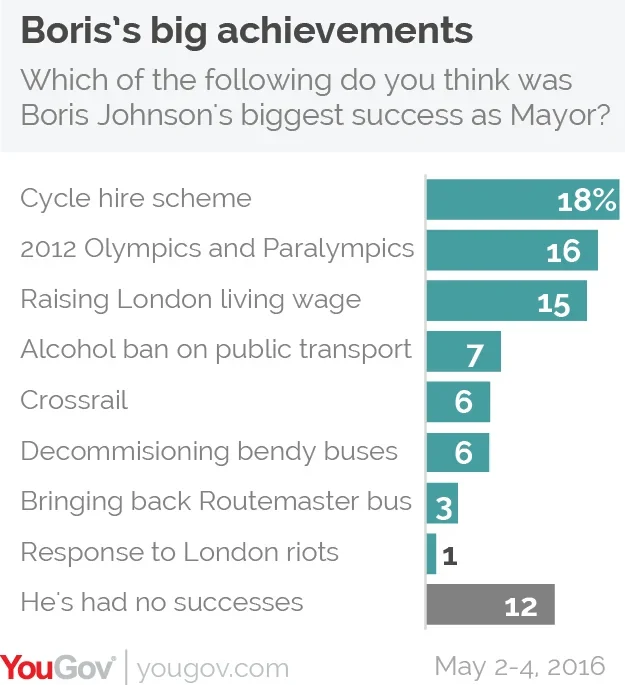 In eight years of mayoralty, Londoners perceive Boris Johnson's biggest success to be the cycle hire scheme – aptly dubbed 'Boris Bikes' – which is chosen by 18%. Some suggest this was actually Ken Livingstone's policy, however the cycling commissioner for London claims the Tories came up with the idea before Ken suggested it (and did no work to implement it) in the last three months of his mayoralty.
Nearly tied for second and third biggest achievements are the 2012 Olympics and Paralympics (16%) and raising the London living wage (15%). But the option with the next highest percentage of clicks is 'he's had no successes as Mayor', chosen by 12%.
Admittedly the position of London Mayor commands little control over the issue Londoners care about most, and which affects their pockets most: housing. Without agreement in Westminster, the Mayor has no say in building on the green belt, or rewarding well performing councils with keeping more property tax receipts, for example. However if Boris Johnson has had any positive effect on the overall quality of life in London over the past 8 years, few Londoners are feeling it. Only 25% say life is better in the capital than in was 8 years ago, while 35% say it is worse and 26% say it is no different.