Most British people think it's inappropriate for Barack Obama to tell Britain how to vote in the EU referendum – but they still love him
Writing in the Telegraph on Friday Barack Obama urged British voters to consider the benefits of EU membership, tackling chiefly the popular pro-Brexit charge that the EU decreases British sovereignty – "The European Union doesn't moderate British influence – it magnifies it. A strong Europe is not a threat to Britain's global leadership; it enhances Britain's global leadership", he said. The US President has been on a three-day visit to the UK, discussing the fight against ISIS and the conflicts in Syria and Libya with the Prime Minister as well as attending lunch with the Queen after her 90th birthday celebrations.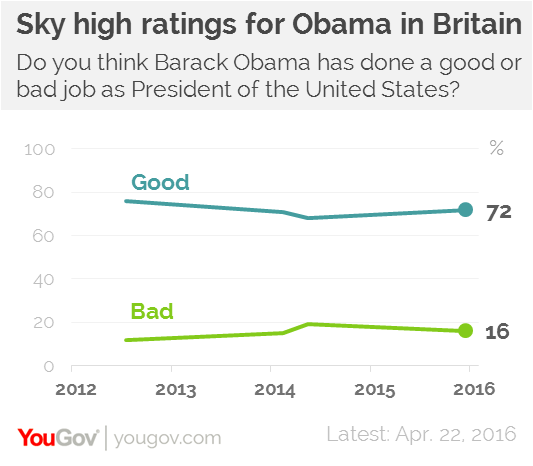 New YouGov research reveals that British people don't welcome Mr Obama's contribution to the debate, however. The majority (53%) say it was inappropriate for the President to express a preference on how Britain should vote while 35% say it was appropriate.
Although these views are likely to coincide with one's position on the EU referendum – pro-EU Labour voters tend to say Obama's intervention was appropriate while eurosceptic over 60s say it was not – the percentage who criticise the President outstrips the current Brexit vote share.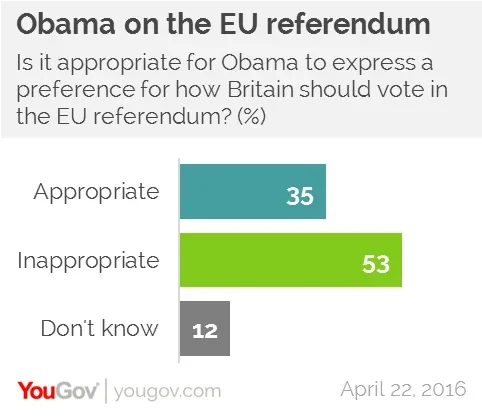 Does this mean Obama's intervention will push Britain towards Brexit in June? The President is still immensely popular – his net approval rate of +56, barely changed since his re-election in 2012, is a distant dream for British politicians. And for the many who don't follow the daily EU referendum coverage knowledge of the President's EU endorsement could contribute to a vote for Remain.
In his piece the President invoked the 'special relationship' between Britain and the US "forged as we spilt blood together on the battlefield". British people are most likely to say leaving the EU would have no impact on the relationship, although a greater percentage say it would be weakened (23%) than strengthened (7%).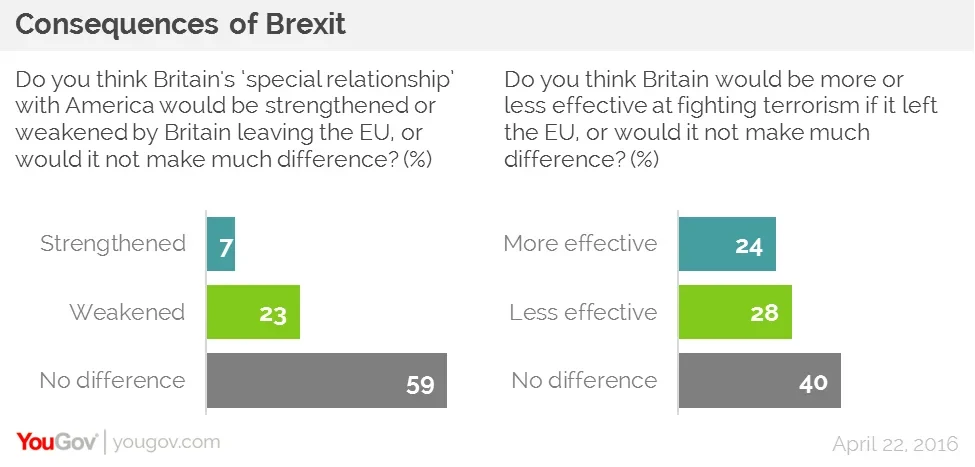 There is even less confidence in the claim that Britain is more able to fight terrorism whilst in the EU, however. Undoubtedly influenced by the EU's principle of free movement and the worry that this eases the flow of extremists, nearly as many say Britain would actually be more effective at tackling terrorism outside of the EU (24%) than inside of it (28%). But again, the most popular option (chosen by 40%) is that it would make no difference.
PA image