British people tend to support an all-out junior doctors strike – but to a far lesser extent than partial strike action
The British Medical Association has announced the first full walkout in the history of the NHS to take place between 8am and 5pm on 26 and 27 April, meaning "that all junior doctors will not attend work, or provide emergency cover between those hours", the BMA said in a statement. Unlike the three previous strikes held since January over a proposed new contract junior doctors will not staff A&E units, intensive care or emergency surgery, however senior doctors and other healthcare staff will still attend work. Health Secretary Jeremy Hunt said in February that he would end negotiations and instead impose the controversial contract from August.
New YouGov research reveals that British people, who have been more supportive of strike action for doctors than for walk-outs in other industries, are less likely to support full strike action by junior doctors than to support strikes which cover emergency care. 59% support partial strikes while 23% oppose, however support for full strike action falls to 44% and opposition rises to 37%.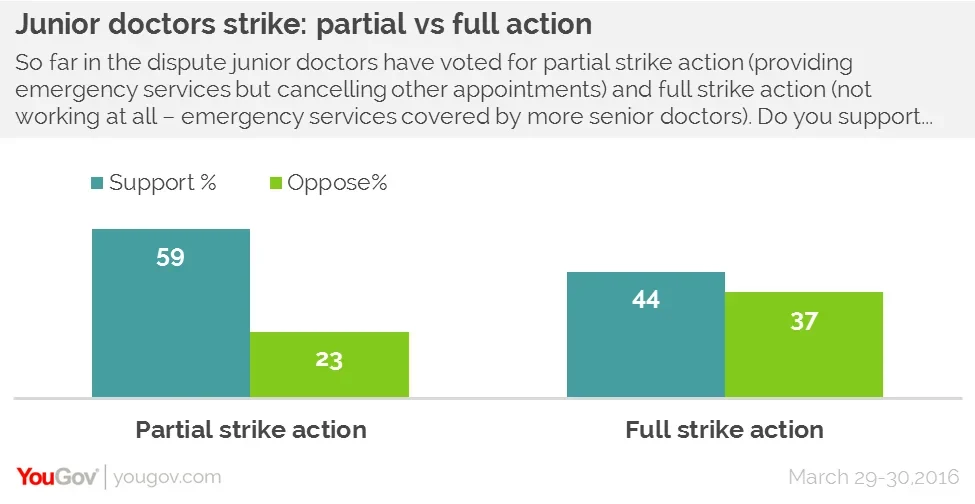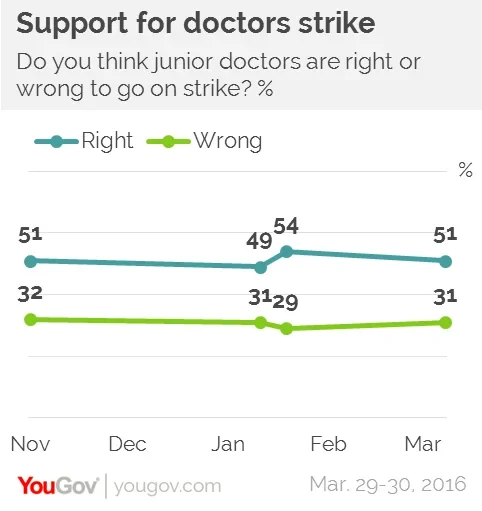 In our tracking question which asks generally about support for junior doctors strikes, and comes before we ask about partial versus full action, support for the strikes is in line with the last three polls conducted since November. 51% now say junior doctors are right to go on strike, and 32% say they are wrong.
The goverment and the BMA have traded blows over who is most to blame for the dispute, with the Health Secretary condemning the BMA for "putting patients at risk" and the BMA blaming Mr Hunt for refusing to compromise in certain areas. The public are still firmly against the government however, with 48% blaming the government, 29% blaming both equally and 9% blaming the BMA.
Junior doctors are concerned the changes to their contract will create unsafe shift patterns, harm morale and lead to doctors leaving the NHS to enter the private sector or work abroad. Where the old contract included financial penalties for employers who made their staff work too many unsociable hours, the safeguards in the new contract are weaker and are not incentivised. A statement issued by the The Academy of Medical Royal Colleges, however, is warning that patients will suffer in the event of an all-out strike, and they urge junior doctors to "step back from the brink".
PA image