Only 11% of British people say we're winning in the fight against ISIS – and many say an attack in the UK is highly likely
On January 5th it was reported ISIS had lost 40% of its territory in Iraq, "had not gained one inch... since May" and had been driven out of 20% of its territory in Syria. After ISIS claimed the creation of a caliphate upon seizing parts of northern and western Iraq in 2014, it looked like the terrorist group was on the defensive in the Middle East. But despite this two tragic terrorist attacks have been committed by ISIS in Europe in the past six months – first Paris in November 2015, killing 130, and now Brussels, killing at least 31 – leaving question marks over the real success of anti-ISIS forces.
New YouGov research reveals very low levels of optimism in Britain about the war against ISIS. Only 11% say we're winning and ISIS is getting weaker, while a third (32%) say we're losing and ISIS has increased its strength. The largest group say there's a stalemate, with neither anti-ISIS forces nor the terrorist group taking the upper hand.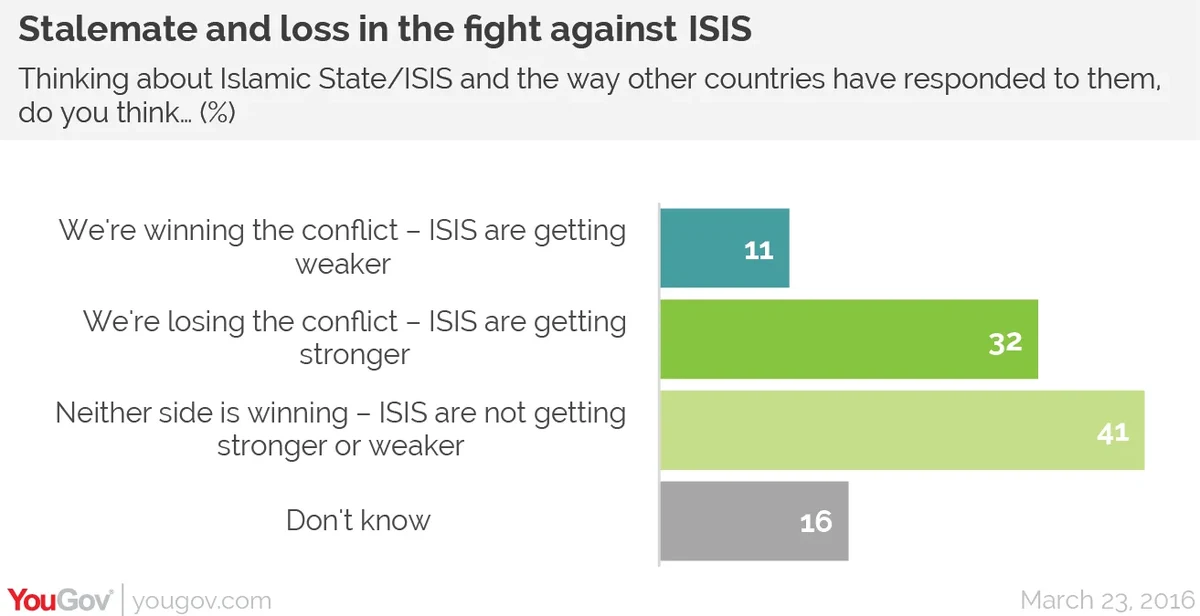 After the November terror attacks in Paris, which included suicide bombings and mass shootings, 79% of British people said they were very or fairly worried ISIS may attempt a terrorist attack here in Britain while 17% were not worried. The level of concern after Brussels is only slightly lower (77% are worried, 19% are not).
According to MI5 Britain's terror level has been 'severe', meaning an attack is highly likely, since August 2014, when it was raised from 'substantial', meaning an attack is a strong possibility. Most British people say the threat to Britain from international terrorism is either substantial or severe, by the same definition, however 12% also say an attack is expected imminently.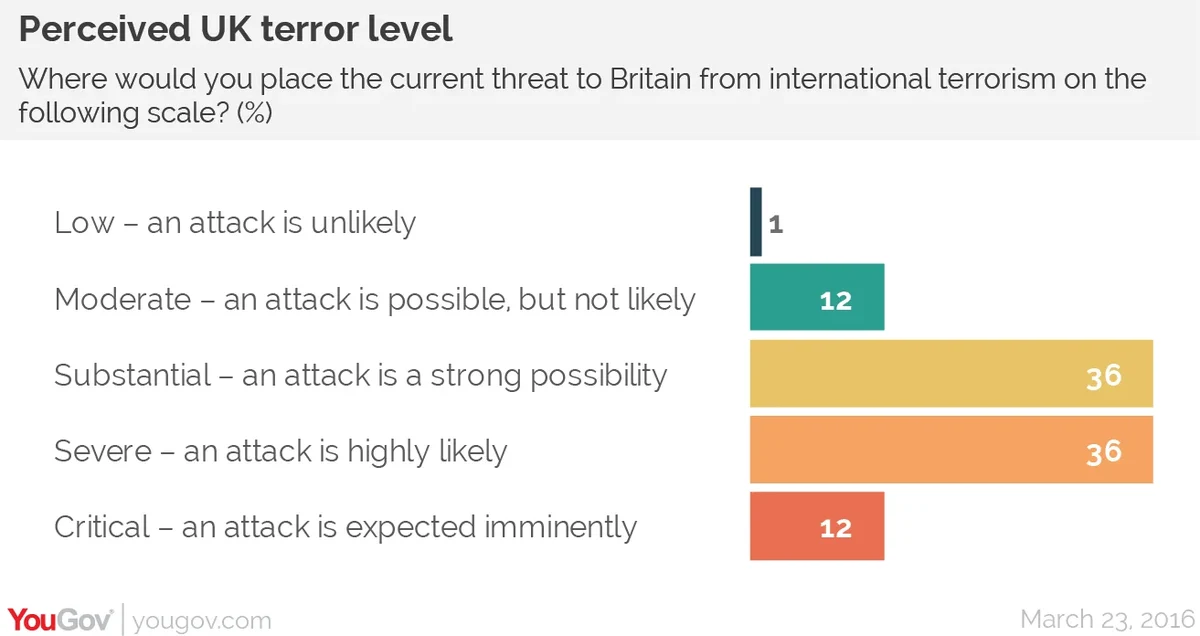 Brussels raised its terror threat alert to the highest level today, which triggers extra soldiers being deployed to the streets and security at its ports and borders. Two of the brothers who carried out attacks in Brussels at Zaventem airport, killing 11, and at Maelbeek metro, where 20 people died, have now been named. Two of the three airport attackers have yet to be named – one died, and the other is on the run.
PA image