An overwhelming majority of British voters now think George Osborne will never become Prime Minister, as his approval rating plunges
The Former Secretary of State for Welfare and Pensions resignation on Friday has cast a shadow over the modus operandi of the budget process of the Conservative government. Where George Osborne and David Cameron have insisted that welfare reform is about making work pay more than benefits and freeing people from the cycle of welfare dependency, Iain Duncan Smith suggests their primary concern was to hit spending targets – something that 55% of British people suspect is true. In contrast, only 28% say this was Mr Duncan Smith's motivation, while 23% say he was driven by the moral case for reform.
As Conservative MPs have lined up to support Iain Duncan Smith, George Osborne's hopes to lead the Conservatives into 2020 seem more distant than ever. Boris Johnson is now the clear favourite at the bookies and fully 67% of British people and 69% of Conservatives say it's unlikely George Osborne will ever be Prime Minister.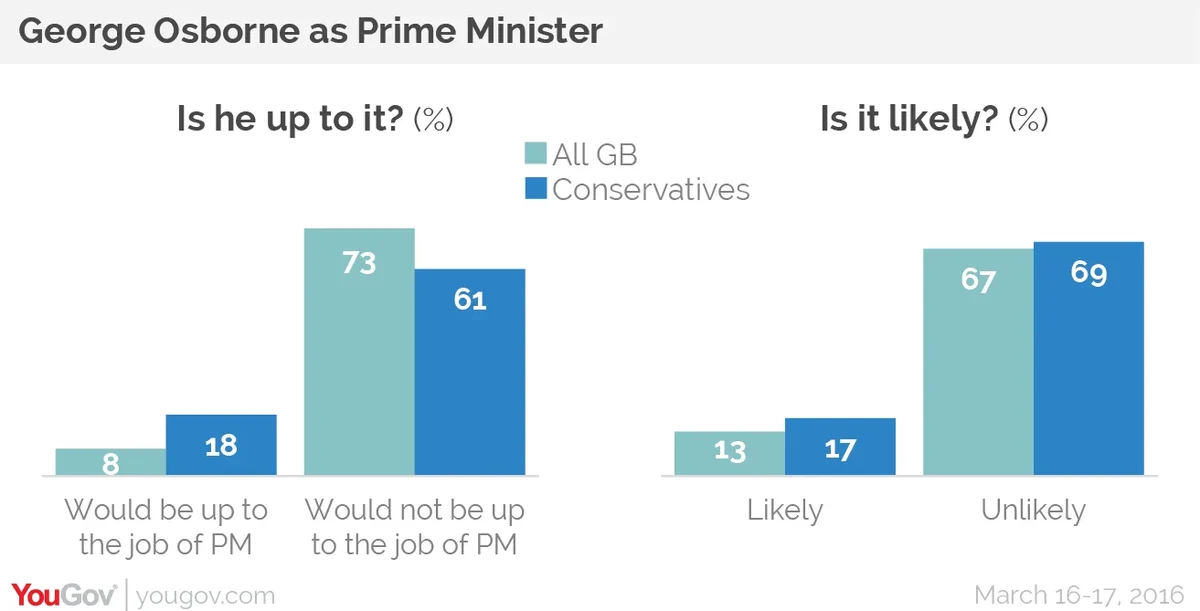 George Osborne's approval rating (-41) has fallen to levels last seen when the UK's economy was believed to have re-entered recession in 2012. His lowest rating was in September 2012 (-47), but given the positive ratings he experienced twice in 2015 the speed of the decline is especially dramatic.
Asked to look back at Iain Duncan Smith's time at the Department for Work and Pensions 33% say he did a good job and 39% say he did a bad job.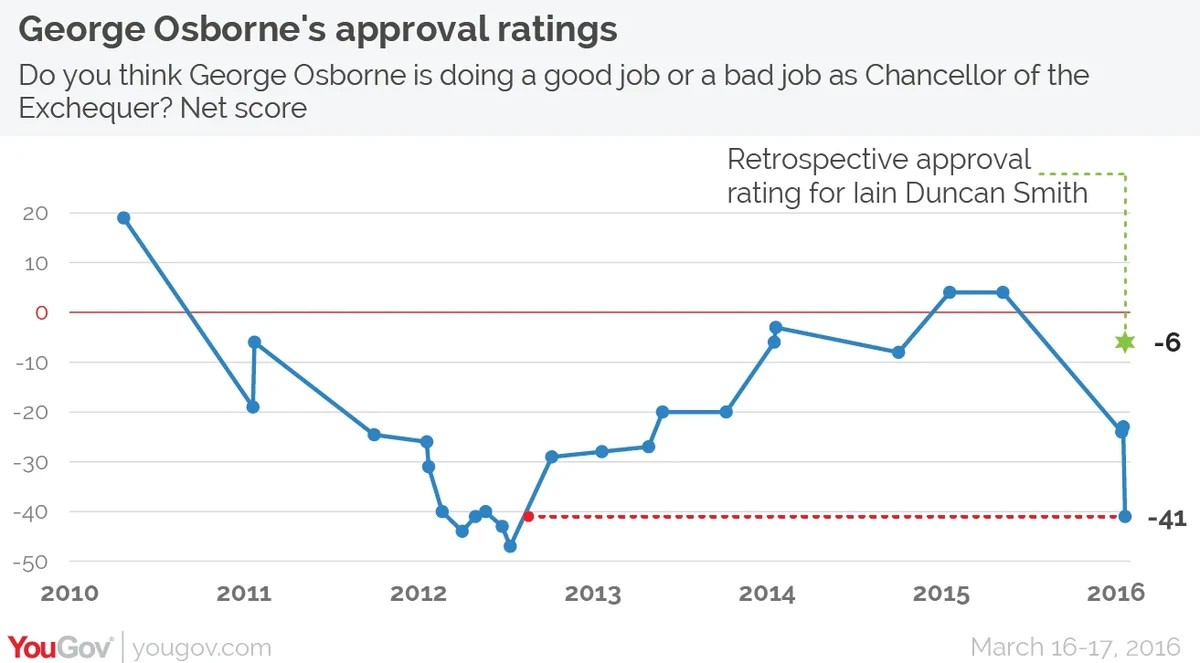 Friends of Iain Duncan Smith in parliament have suggested he was continually shut out of key decisions on welfare, and said the Government had "taken the same playbook as Brown and Blair... Everything is dictated from the top for short-term political advantage." Overall 38% of British people say Mr Duncan Smith's reasons for resigning genuinely were about the fairness of welfare cuts, while 29% say they were not genuine. 45% of Conservatives say his reasons were genuine, 29% say they were not.
PA image