For the first time since 2012 more British people say this week's budget was unfair than fair - and reductions to disability benefits and academisation have gone down badly with the public
On March 21 2012, when George Osborne delivered his third budget as Conservative chancellor, which included a proposal to cut the 50p top rate of income tax, freeze personal allowances for pensioners and introduce the infamous 'pasty tax', Labour stole an eight point lead over the Conservatives, and 48% of British people said the budget was unfair, while 32% said it was fair. After his eighth budget, the second delivered by an all-Tory government, the reaction is not as bad, but worse than at any other time in the chancellor's budget history.
As the papers hone in on threats of a Tory revolt over cuts to disability benefits, judged by the Institute for Fiscal Studies to affect 370,000 people with an average loss of £3,500 a year, new YouGov research for the Times reveals this is seen as the least fair budget since the 'omnishambles' budget of 2012. 38% say the budget was not fair and 28% say it was.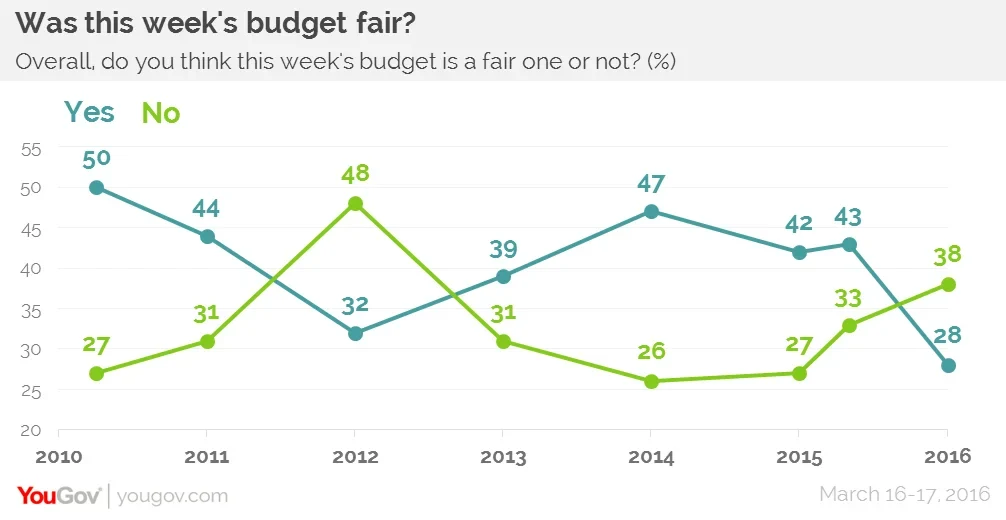 Labour has also drawn parallel with the Conservatives for the first time since Jeremy Corbyn became leader, confirming an ICM poll showing the same result last week. Anthony Wells and Stephan Shakespeare suggest polls this far out from an election reflect criticism of the governing party - a Tory party whose brand has been damaged by infighting over Europe - more than support for the opposition.
While the budget contains many popular policies, notably an increase in the personal tax allowance (also the most popular policy of Mr Osborne's first all-Tory budget), cutting down on tax avoidance, freezing fuel duty and taxing tobacco, cuts to disability benefits arguably overshadow the good news.
The change would reduce the extra weight given to people who need to use aids for dressing and toilet needs in calculating disability benefits, but this is seen as the wrong priority by 70% of the British public, including 59% of Conservatives, and a good idea by only 13%.
In July's budget the least popular policy was replacing maintenance grants for lower income university students with loans, but the opposition was comparatively lower: 52% said this was the wrong priority and 24% said it was a good idea.
This year's second least popular policy, turning all primary and secondary schools into academies, is also less popular than last year's worst. 59% say the programme of academisation is the wrong priority and 14% say it is a good idea. As we reported yesterday, an analysis of the profiles data of more than 8000 teachers' opinions over the past year suggests 48% of teachers say turning schools into academies will make educational standards worse, while 28% say it will make no difference and 17% say it will improve standards.
PA image