Two thirds of British people reject the decision of the UN that Julian Assange is being arbitrarily detained – and his favourability has continued to decline since 2013
The UN made the first significant move in the case of Wikileaks founder Julian Assange after nearly four years of stalemate between Sweden, Ecuador, Britain and the US last week – recommending Assange be freed and compensated for being "arbitrarily detained" by the UK. Ecuador offered Assange asylum in 2012 after Sweden issued an arrest warrant over sexual assault charges, however he feared this would lead to him being moved to the US and put on trial for releasing secret documents. The UN's Working Group on Arbitrary Detention said the UK was unfairly blocking Assange from "access [to] the full-intended benefit" of his asylum status, as he would be arrested on leaving the embassy.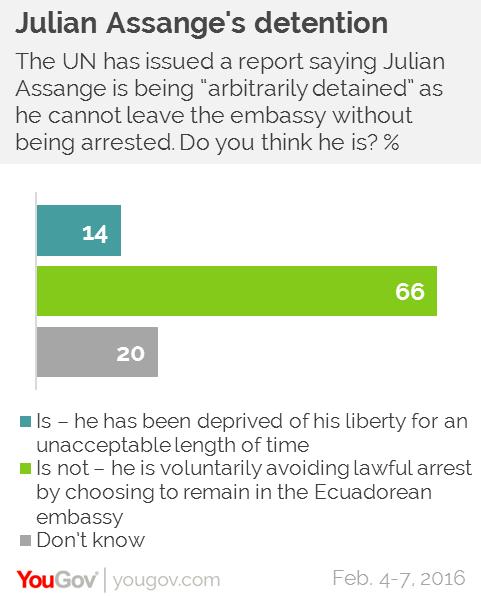 New YouGov research reveals little sympathy for Mr Assange. 66% of British people say he is not being arbitrarily detained – "he is voluntarily avoiding lawful arrest by choosing to remain in the Ecuadorean embassy" – while only 14% say he is and 20% don't know.
There has been little change in opinion on what should be done with the Wikileaks founder over the past three years. In 2013 the most popular option (chosen by 43%) was to leave him in the embassy and arrest and extradite him to Sweden should he choose to leave the embassy, and it still is (44%). Only 16% say he should be allowed to leave and take asylum in Ecuador, only slightly more than the 14% who say we should forcibly enter the embassy and arrest him, ignoring international law.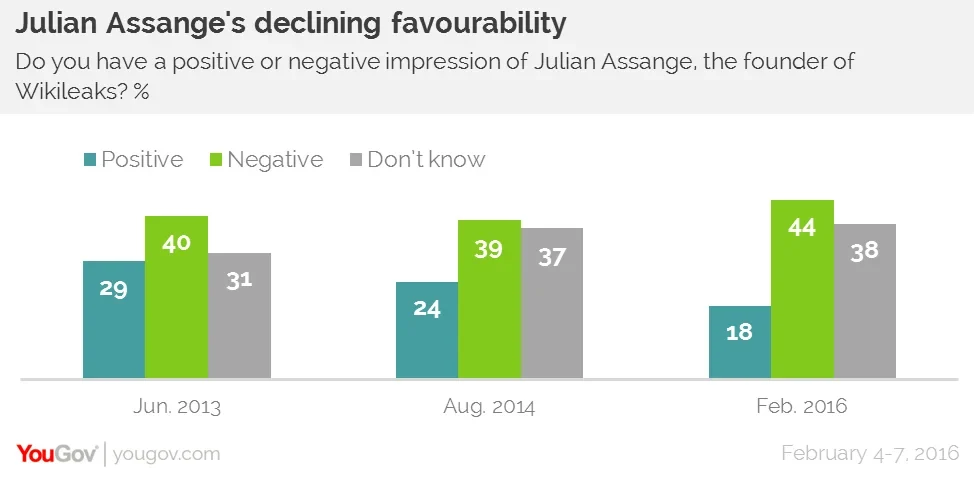 The public are increasingly taking a dim view of Julian Assange, however. His net favourability has decreased from -11 in 2013 to -15 in 2014 to an almost doubly negative score of -26 in 2016.
And there is evidence he is fading from the public's memory. In 2013 31% didn't know how to view Mr Assange, but this percentage is now 38%.
PA image