British people tend to say junior doctors are right to go on strike next Wednesday – and blame the government more than the BMA for the dispute
The British Medical Association has announced a fresh junior doctors' strike to take place on February 10 and last a full 24 hours – longer than originally planned but emergency care will now be covered. Jeremy Hunt has told the junior doctors' trade union the government's "door is open" for negotiation, however the prospect of the disputed new contract being imposed on the health service if an agreement cannot be reached in the next few weeks now looms. At the centre of the disagreement are the conditions on Saturday pay – currently the whole day attracts a premium rate, while under the latest offer the higher rate would begin at 5pm.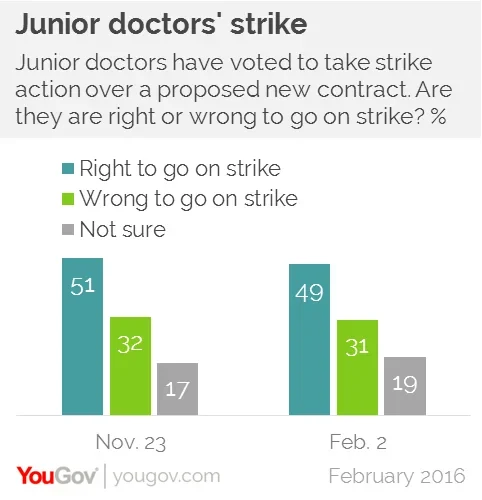 New YouGov research reveals public backing for the strike as 49% say junior doctors are right to take action and 31% say they are wrong.
Conservative voters are the only demographic group more likely to say doctors are wrong (53%) than right (28%) to go on strike, however over 60s are almost evenly divided (45% right, 41% wrong).
Majority public support for strike action is relatively rare. In 2014 46% opposed and 28% supported a one-day teachers strike over pay and pensions; in 2013 49% said firefighters should not even have the right to strike while 42% said they should; and Londoners divided 40% for and 42% against a law declaring a total ban on strikes for underground workers in 2014.
Both sides in the dispute traded blows before the first junior doctors' strike on January 12, with the Health Secretary condemning the BMA for "putting patients at risk" and the BMA blaming Mr Hunt for waiting too long to enter talks.
The public are more likely to say the government is to blame (45%) rather than the BMA (12%) while 30% say the blame is on them both.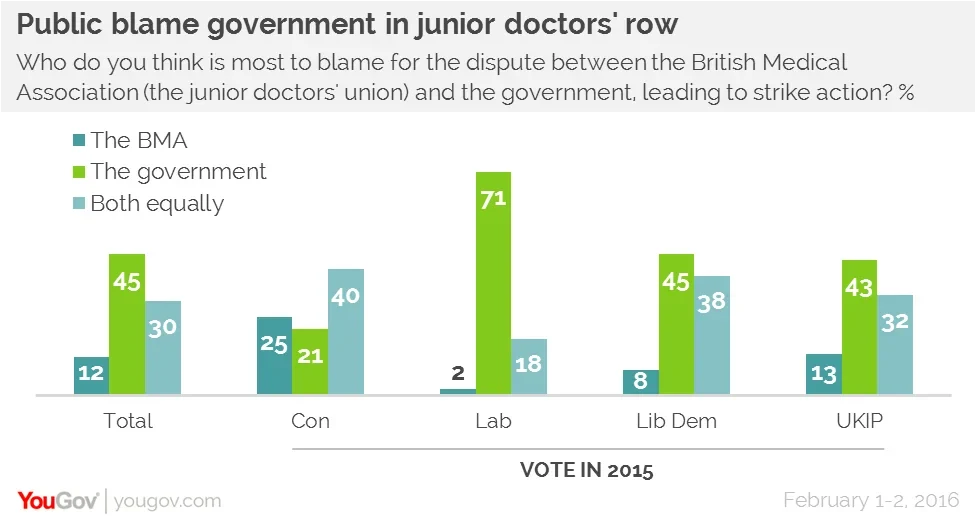 Conservatives are more likely to blame the BMA (25%) than the government (21%), but the tendency is slight and 40% say both are to blame.
After talks running since December 1 broke down, a source close to the negotiations said: "Jeremy Hunt's strategy now is to exhaust the junior doctors, hope that more of them turn up for work during next week's strike and hope that the industrial action fizzles out and then impose the contract in August." The government says it has made concessions on Saturday pay, bringing forward the time at which higher rates will be paid from 10pm to 5pm, while "the BMA continues to refuse to negotiate".
PA image