52% of Americans, including a majority of adults under 65, support legalising marijuana
In recent years the legal, and political, environment surrounding marijuana in America has been transformed. Four states have now fully legalised marijuana for recreational purposes and many others have either decriminalised possession or passed laws to allow medical marijuana. New York, which traditionally has had strict drug laws, has become the latest state to allow medical marijuana. Marijuana is still strictly illegal at a federal level but in general the federal government will not take action against people who are not breaking state laws or facilitating the interstate trade in marijuana.
New research from YouGov in America shows that a majority now support legalising marijuana. 52% of Americans now support legalisation, while only 34% oppose it. This is slightly up from when the question was last asked in March 2015 - 48% then supported legalisition.
Over half of all American adults under the age of 65 support it, but over-65s do tend to oppose (49%) rather than support (39%) legalisation.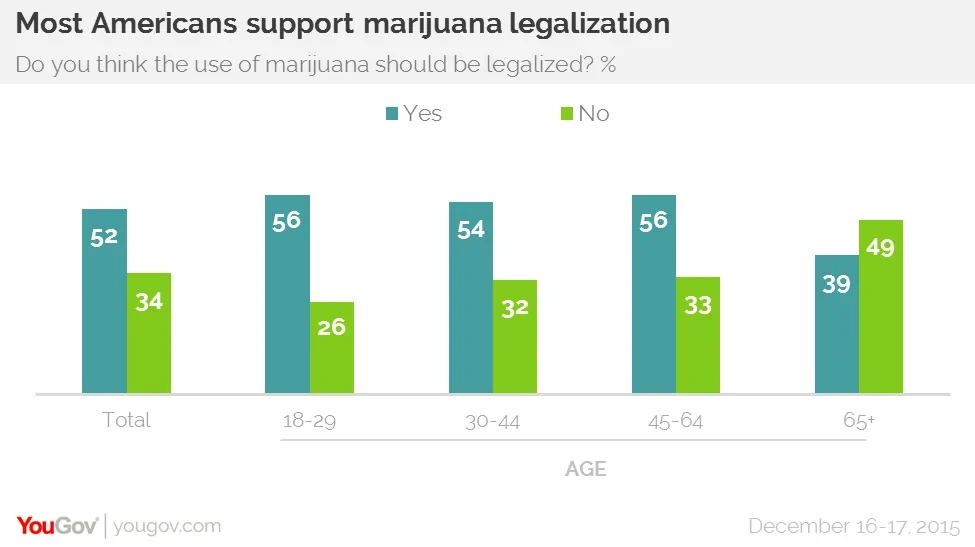 Politically, Democrats (66%) and independents (51%) want to legalise marijuana but half of Republicans are opposed. Just over a third of Republicans (36%) do support legalisation, however.
While full legalisation has the support of just over half of the country two-thirds of Americans believe that government efforts to enforce marijuana laws cost more than they are worth. Unsurprisingly a huge majority of people in favour of legalization (86%) say that the efforts cost more than they are worth, but even opponents of legalisation narrowly tend to say that current efforts aren't worth the cost (42% to 33%).