Most British people support the idea of England having its own national anthem – and Land of Hope and Glory beats the competition
MPs voted in favour of introducing a bill to Parliament on adopting an official national anthem for England this week, so that England would have its own anthem like Scotland and Wales. Toby Perkins, the Labour MP who proposed the bill, said it "seems incongruous" for the English to sing about Britain when they play other British sides – "This not only denies us English an opportunity to celebrate the nation that is being represented but is also a cause for resentment amongst other countries within the British Isles who feel that England have requisitioned a British song", he said.
New YouGov research reveals strong support for the idea of an English anthem, with 57% in favour and 22% opposed.
In agreement with Mr Perkins' point Scottish people are even more supportive than the British average, with 60% in favour and only 9% opposed.
Majorities of supporters of every major party support England having a national anthem, but Conservative voters are actually more likely to oppose (29%) than Labour voters (18%).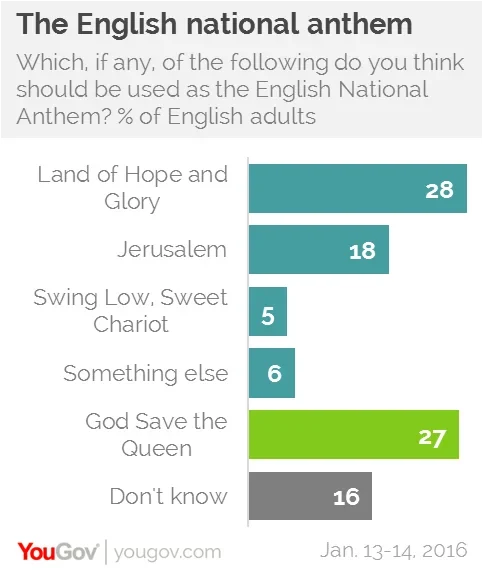 William Blake's short poem And did those Feet in Ancient Time, set to music in Jerusalem, is often considered a natural candidate to replace God Save the Queen, and David Cameron has previously said it would be his choice.
But YouGov's research reveals Land of Hope and Glory to be the favourite among English people, beating the other alternatives Jerusalem (18%) and Swing Low, Sweet Chariot (5%) – and even God Save the Queen itself.
Jerusalem has often been interpreted as satirical, un-Christian or critical of British history, having even been banned by clergymen in some cases. 'And did those feet in ancient times walk upon England's pastures green?' is usually seen as a rhetorical question dismissing the apocryphal account of Jesus visiting Glastonbury; 'Among these dark Satanic mills' as a lamentation of industrialisation; and 'I will not cease from mental fight… Till we have built Jerusalem' as a suggestion humans can create heaven themselves.
God Save the Queen would be reserved for British teams such as team GB at the Olympics, while the English anthem would be sung by English teams in football, cricket, rugby and athletics at the Commonwealth Games, for example.