British people tend to think sharp falls in Chinese markets will have a large effect on the British economy – but view another global financial crash as less likely than in 2014
The FTSE rallied yesterday after China's 'Black Monday' sent shockwaves through global financial markets, but analysts warn of lasting implications for the British economy. As a net borrower from the rest of the world with less trade and investment overseas, a global slowdown would make it more difficult for us to profit abroad. George Osborne warned that our exposure to emerging markets puts us at a greater risk than many other rich nations, as UK savings and pensions were hit by the crisis.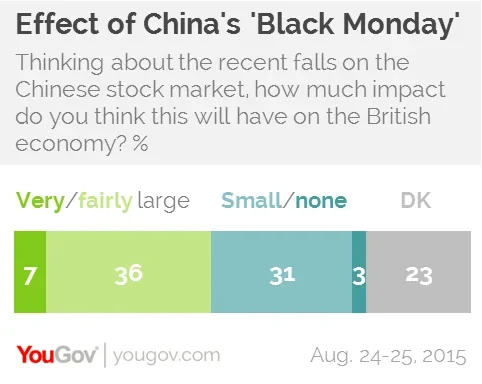 New YouGov research reveals concern among the British public that China's turbulence will spread to the British economy. 43% expect the recent losses on the Chinese stock market to have a very or fairly large impact on our economy, while 34% predict only small effects.
Since 2013, there has been no improvement in perceptions that Britain is more protected from financial crashes than it was at the time of 2008's banking crisis. In June 2013 40% thought we were safer than in 2008 – now 39% do. Conservatives, usually more optimistic about Britain's economic position, are slightly less sure of our relative safety (55% compared to 61% in 2013).
Compared to in 2014, however, fewer now expect a global financial crisis to occur in the next 12 months. In November of 2014, as David Cameron cautioned "red warning lights are flashing on the dashboard of the global economy", 51% thought one was likely. Now the figure is 40%.
The system
Non-mainstream economists have warned that slowing global growth and more frequent recessions are an indication that the global financial system is becoming unsustainable. Failure to learn the hard lessons from 2008 – keeping banking capital ratios relatively low and insufficiently separating high street and investment arms – has left us vulnerable to further crises, they argue.
British people expect financial crises to become more frequent in the next 20 years (42%), rather than less (13%) or as frequent as now (24%). But they are more likely to place blame on poor management by governments and individuals (45%) than on the financial system itself (29%).
China cut interest rates and banking reserve ratios to ease up lending in the market yesterday, however the Shanghai Composite stock market continued to fall. Commentators worry that recoveries in British markets speak more of investors' confidence that the Bank of England will now put off an interest rate hike, rather than confidence in the underlying market.
PA image