The Millennium Summit held at the United Nations in 2000 set out 8 ambitious goals to be achieved by 2015. Fifteen years on, YouGov asked its UK Opinion Formers panel - which draws leaders from the worlds of business, politics, the media, charities, public sector and academia among others - how far they think the UN has come since setting those lofty goals.
A little over two-fifths (43%) of around 700 Opinion Formers polled think that the United Nations' Millennium Development Goals were a good thing, however tellingly 52% just aren't sure. Indeed, a follow-up question asking about familiarity with the Goals found that only 22% are either very or fairly familiar with them, although this more informed group largely view the Goals as a 'good thing' (86%).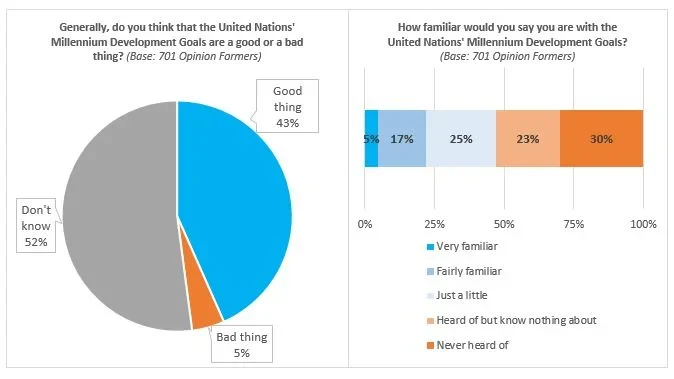 Broadly, perceptions as to the progress towards meeting the Development Goals are mixed. Of the eight goals outlined back in 2000, Opinion Formers perceive that the greatest success has been in combating HIV/AIDs, malaria and other disease (53%), reducing child mortality (40%) and improving maternal health (35%). By contrast, the area where the least success is perceived is ensuring environmental stability – only 8% say that progress in this area had been 'quite or very successful'.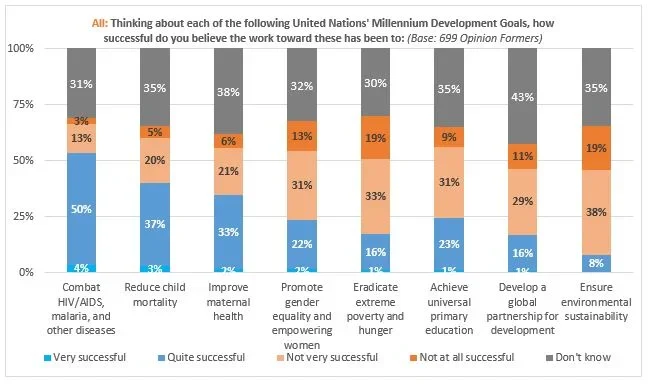 Among those familiar however, the positive perception of progress in these areas rises. Four-fifths (81%) feel that progress has been made in combating HIV/AIDS, malaria and other diseases, with 64% seeing progress on both the reduction of child mortality and improvements in maternal health.
However, the perception of failure is also more acutely felt with this more familiar group. Three-quarters (76%) perceive little or no success in ensuring environment stability, compared with 43% amongst those unfamiliar with the Goals. Over half (53%) do not perceive much success in eradicating extreme poverty and hunger, compared with a slightly lower 46% who are unfamiliar with the Goals.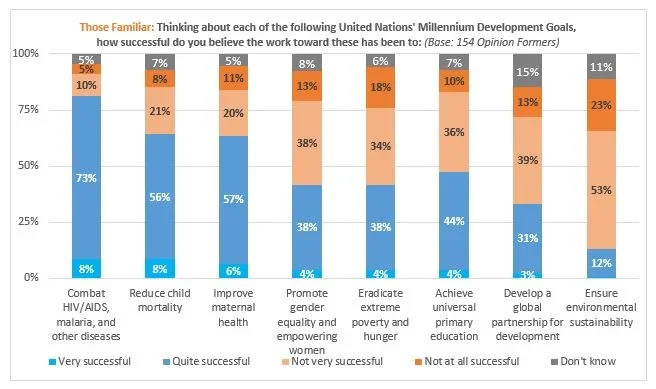 When asked who, or what, has made the greatest contribution to progress on the Development Goals, 16% think that NGOs and individual philanthropists have made the single greatest contribution, rising to 21% among the familiar Opinion Formers. Just 7% feel that the single greatest contribution is that of UN run development programmes themselves, although this does rise to 15% among those familiar. This could either be a missed opportunity on the UN's part to publicise its good work, or a worrying indictment of the UN's failure to contribute effectively toward its aims.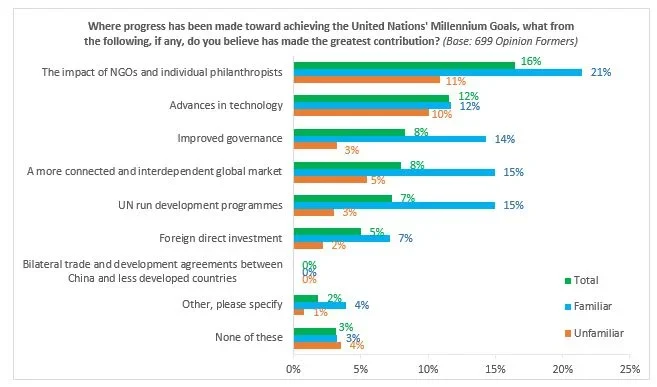 Indeed, factors which may be considered beyond the UN's control such as advances in technology (12%), improved governance (8%) and interconnected global markets (8%) have had more of an impact on the successes achieved toward the Development Goals' aims than the UN's own programmes, according to Opinion Formers. However, what this fails to highlight is that in attempting to address the Goals, the UN has formed partnerships with governments and the private sector to secure the resources needed to do so, meaning that the UN may well have played a less visible role in many of these factors.
With the deadline now over for the original Development Goals, the UN is seeking to outline a new sustainable development programme, which will again seek to "end poverty, protect the planet, and ensure prosperity for all". It will be interesting to see how these new changes in policy will be viewed amongst Opinion Formers in the future as we continue to track its progress.
YouGov completed online interviews with 701 Opinion Formers from its UK Opinion Formers Panel between the 15th and 24th April 2015. Opinion Formers are leaders in their field from business, media, politics, NGOs, academia and beyond. The figures have not been weighted.