The deadly attack in Tunisia has pushed fears of a terrorist attack higher than at any time since 2007
Last Friday's attack on holiday makers in Tunisia has heightened terror threat levels across Europe and North Africa. Downing Street has now confirmed the British death toll stands at 22, and this could reach 30 once the identification of victims is complete. Repatriation of bodies will begin on Wednesday, and all seriously injured Britons have now been flown out of Tunisia.
In an unconnected event, police officers, soldiers, emergency services and intelligence officials are taking part in London's largest counter-terrorism excercise, testing responses to extremists using firearms. YouGov polling conducted after the Tunisia attacks finds that British terrorism concerns are slightly higher than they have been at any point since the 7/7 London bombings.
14% of the British public now think there is a very or fairly high chance of a family member or friend being killed or wounded in a terrorist attack, compared to 16% on the day after the 2007 London bombings.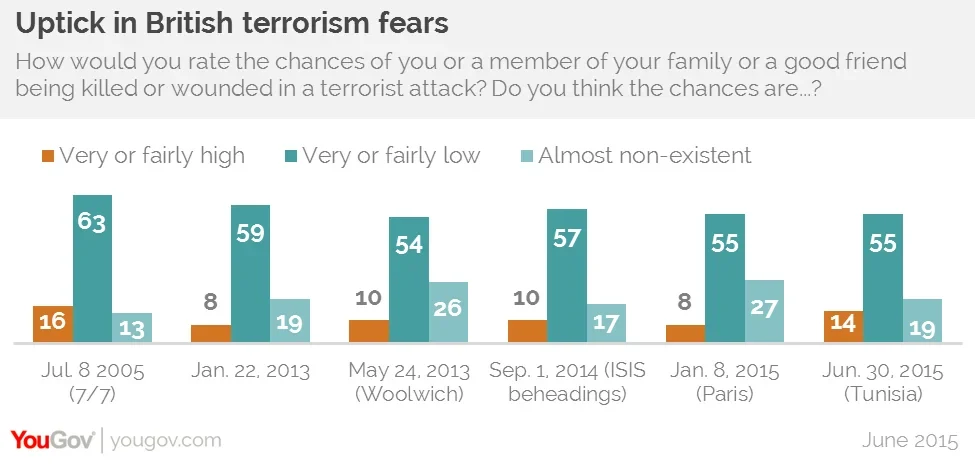 From 2013 onwards, as YouGov has measured fears following the Woolwich attack, ISIS beheadings and shootings at satirical newspaper Charlie Hebdo, the figure has been between 8% and 10%. 2007 represented a significantly higher level of concern than now, however, as only 13% said the threat level was 'almost non-existent' – now that figure is 19%.