The public have long believed Fifa to be corrupt. Now, many think the organisation is beyond reform
Suspicion about corruption at Fifa is nothing new. Neither is frustration with the international body's beleaguered president, Sepp Blatter. Yet, as a new YouGov survey can reveal, this week's indictment of 14 high-ranking Fifa officials has pushed public disapproval of the organization and its leader to fresh extremes.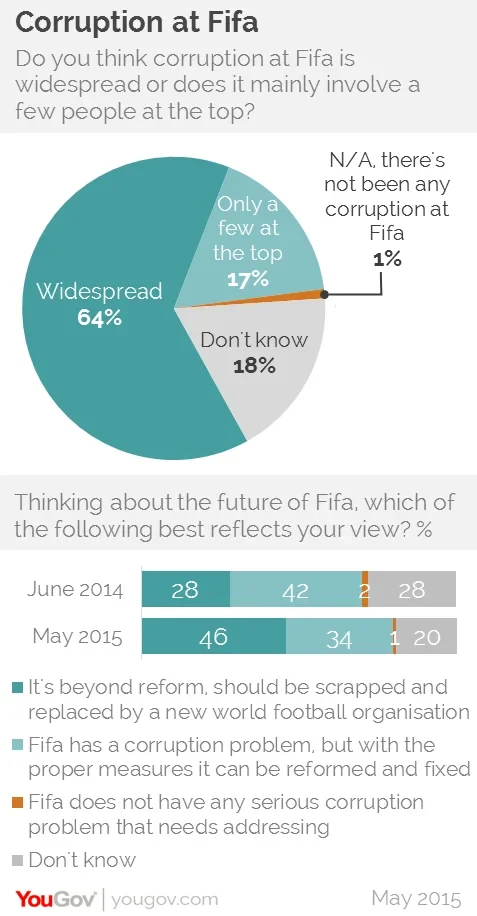 Overall the number who think the world's governing body for football is corrupt has gone from 66% in June of last year, following the publication of a Sunday Times investigation into Qatar's World Cup bid, to 83% today. Two-thirds (64%) believe the corruption is 'widespread' and not confined to officials at the top.
People also appear to have changed their minds about whether reform is even possible within the organisation.
Last June, 42% believed Fifa had 'a corruption problem', but could be fixed with the right changes. Only 28% believed Fifa was 'beyond reform' and should be scrapped and replaced entirely. Now public opinion leans the other way: 46% want Fifa to be shuttered entirely, and 34% think it can be reformed. 20% don't know what should happen to Fifa, and 1% think there is no need for changes.
The sponsors
The public overwhelmingly want Fifa's sponsors to pull out. 73% say the organisation's main sponsors should stop sponsoring Fifa, while only 4% who think the sponsorships should continue. 23% don't know.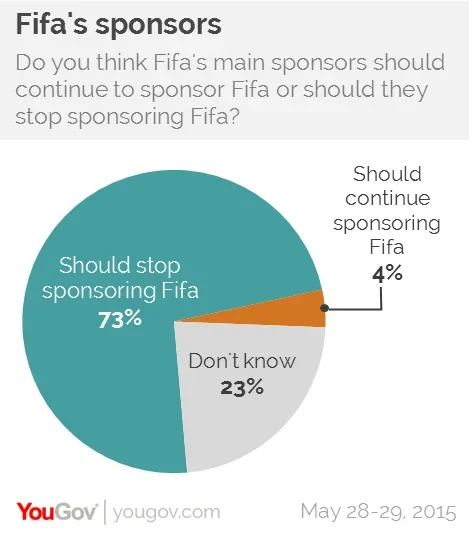 People who express an interest in football are especially likely to have an opinion on Fifa's sponsors, and 82% say the sponsors should drop Fifa. 8% take the opposite view.
Yesterday several sponsors – including McDonald's, Coca Cola and Adidas – released statements calling on Fifa to reform, but most stopped short of threatening to withdraw if changes weren't made.
Sepp Blatter
Also widespread is the belief that the abuse goes right to the top of Fifa. 57% of the public and 72% of football fans believe Fifa president Sepp Blatter was personally involved in corruption at the organisation he's headed since 1998. Only 4% overall say Blatter has not been involved in any corruption, and 38% don't know.
US authorities detailed criminal activities going back to 1991, but Blatter, who was elected to a fifth term four-year term as president on Friday, has not been charged with anything.
2018 and 2022
There has been less impact on how the public sees the upcoming 2018 and 2022 World Cups in Russia and Qatar.
Two-thirds (67%) want the 2022 World Cup moved out of Qatar, but this is the same number who wanted it moved last summer. Meanwhile support for taking the World Cup from Russia – something that Russia's president argued was the ultimate goal of the US charges – has actually fallen to 50% from 60%. The previous poll was conducted in September 2014, nearer the time of Russia's disputed annexation of Crimea and incursions into Ukraine.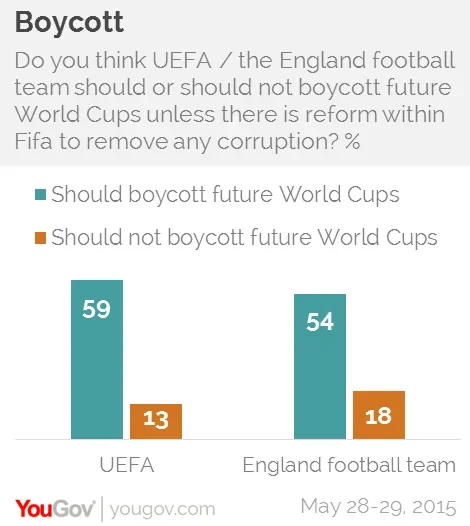 However, support has grown for a boycott of future World Cups by the UEFA, which oversees Europe's football associations, until Fifa rids itself of corruption. 59% now back a UEFA boycott, up from 49% in November 2014. 54% would back a unilateral boycott by the England football team, little-changed from November (52%). Once again British football fans are more likely to have an opinion, but generally feel the same as the general public: 71% want a boycott by UEFA while 62% want a boycott by England.
God bless America?
The US Justice Department's role in bringing the charges has been hailed as a PR coup for the United States. While the survey didn't address this aspect of the case directly, it did find some evidence of embarrassment over the fact it took the American FBI to clean up a sport with much deeper roots in Europe. 71% say it "reflects poorly" on European authorities that they did not take action before the United States. Only 7% disagree.
PA image