What do you want to be when you grow up? It is an age old question but, as election day approaches, new research from YouGov's Children's Omnibus finds that politician is a long way down the jobs children want to do.
The poll asked over 1,300 eight to 15 year-olds what one job they would most like to have when they were adults, with the children themselves providing the answers, rather than selecting from a list. Despite the fears over the number of young people going into science, technology, engineering or maths-based roles, it found that the most popular (12%) career was to work in the STEM professions.
It came just ahead of working in health and care roles (11%) and even being a professional sportsperson (also 11%), with working behind the scenes in the creative industries coming next (10%).
YouGov found that even in the throes of a general election campaign where politics is everywhere, just 1% of children opted for politician as their preferred career. This is the same proportion that want to be in the military, work in retail or be an astronaut. Even when 8-15 year-olds were asked specifically if they had ever wanted to be a politician, only 7% of them said they had, with almost nine in ten (87%) saying they had not.

Note: Figures rounded to the nearest percentage point
Among those with an opinion, the most common reason for children choosing their particular career is that they thought it would be fun (42%). Given the popularity of careers such as animal welfare and education (both 9%), it is perhaps not surprising that the second most common motivation to choose a particular job was "to help people" (23%).
Just over one in ten (11%) of the children YouGov surveyed said that pay was the main reason for choosing the job – a fact that perhaps influences the relatively low levels wanting to go into the professions (6%) or become businesspeople/entrepreneurs (1%). Although much is made of "celebrity culture" and people growing up wanting to be in the public eye, just 4% say their career choice is motivated by the desire to be famous.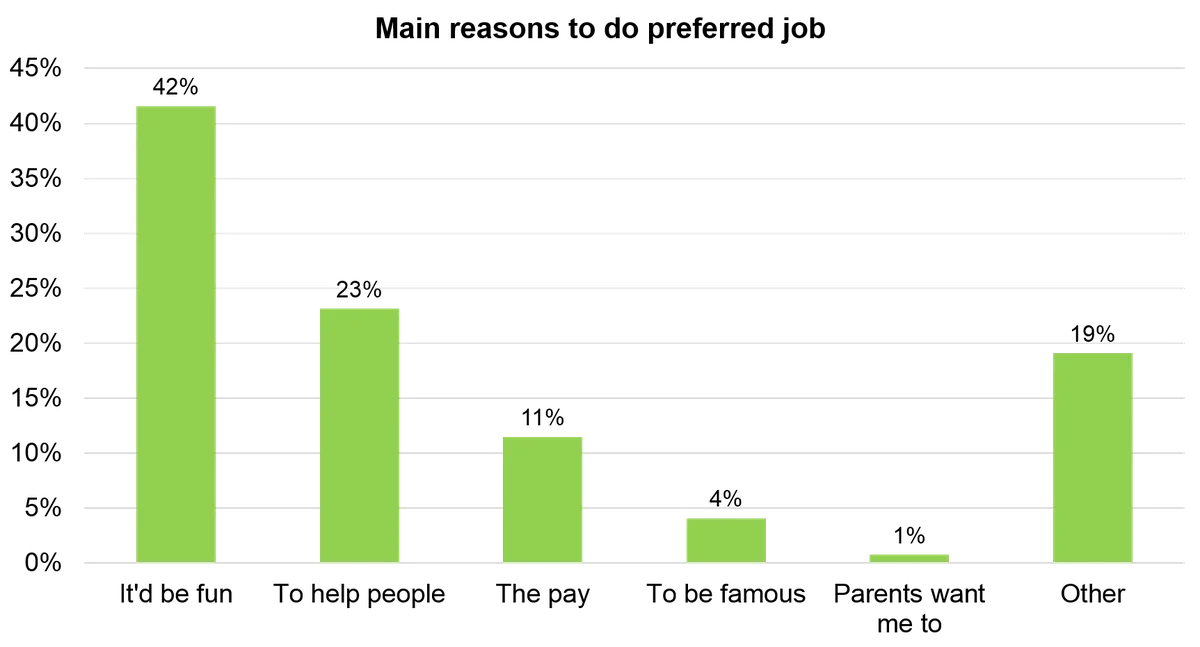 Joe Twyman, YouGov's Head of Political and Social Research, says: 'Young people sometimes get a rough ride when it comes to their chosen careers with critics tending to focus on those who are fame-hungry and or have unrealistic expectations. However, our results suggests adults should give young people a lot more credit as many of them are looking to get into STEM roles and so few wanting to have a job just to be famous. Crucially, a lot of them want roles that are fun and help people and while few of them want to be politicians, public service is a big issue to them – with many wanting to be involved in jobs such as health and care and education.'
Find out more about the children's omnibus here
Image from PA