60% of British people, including 42% of Conservatives, support introducing limits on the amount landlords can charge tenants
Labour leader Ed Miliband said the Tories had lost their claim to be the "party of home ownership" today, as he followed a weekend announcement on rent controls with a pledge to exempt first time buyers of houses worth under £300,000 from paying stamp duty. He said his party would "boost both supply and demand in the market" by starting a million new home builds in the next parliament and increasing affordability, while a cap on above-inflation rent increases during standard three-year tenancies would prevent private renters from being "ripped off".
A new YouGov poll reveals broad support for rent controls, with 60% in favour of limiting the amount that landlords can charge renters and 25% opposed. The net +35 support for the policy is up from +23 in May last year.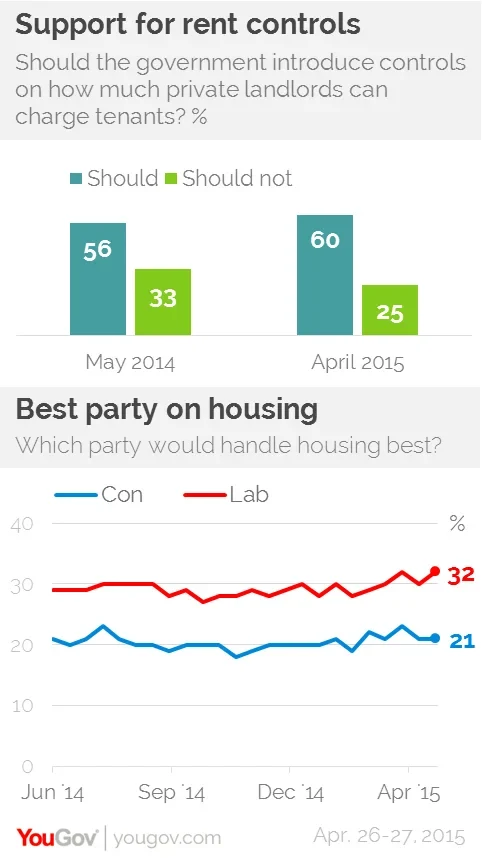 Conservatives, whose party have denounced rent controls, are divided on the issue – 42% support, 44% oppose.
An exclusive YouGov poll of MPs has found 65% of Labour MPs in favour of rent controls, while 5% are opposed and 31% say it depends on the details of the policy. 77% say it is at least somewhat likely that some form of rent controls will be introduced in the coming years.
In our latest tracking poll, Labour have an 11 point lead over the Conservatives on the issue of housing – in line with their average lead of 9 points since June 2014.
Conservatives have claimed Labour's rent control policy would lead to chaos, and the Telegraph reported nearly £200m being wiped off the value of three major home developers following Ed Miliband's announcement. The Conservatives have pledged to build 200,000 homes for first-time buyers aged under 40, at a 20% discount.