British voters are still far more likely to say the media is biased against UKIP than the other parties – but slightly less than before
In the second televised leaders debate on April 16, Nigel Farage lashed out at the audience for being "left-wing". "There just seems to be a total lack of comprehension on this panel and indeed this audience, which is a remarkable audience even by the left-wing standards of the BBC," he said. Media bias against UKIP was a running theme during the May 2014 European Parliament elections, and during the two by-election wins following Conservative defections in the autumn. But the media have also come under fire for giving UKIP too much attention – academics suspect it may partly have driven support.
With the party now categorised as 'major' by Ofcom, YouGov has revisited questions about media bias first run in May 2014. British people still say the news media are most biased against UKIP (43%, compared to 27% who say the media are biased against the Lib Dems, 22% for Labour and 15% for the Conservatives).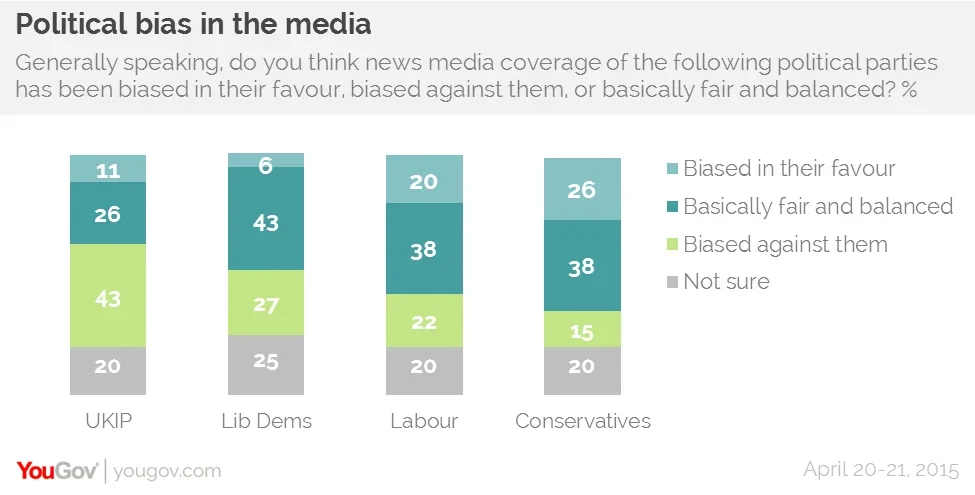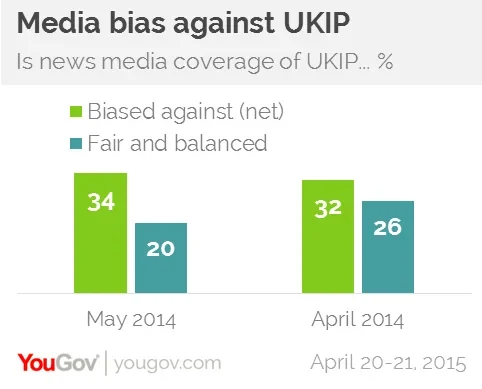 While impressions of media bias against UKIP have modestly altered (net 'biased against' has moved from +34 to +32, and 'fair and balanced' has moved from 20% to 26%), UKIP voters themselves have become more convinced the media have it in for them (83%, up from 77% in May).
There has been a similar shift for Labour voters (31% to 38%) and Lib Dems (44% to 53%), however Conservatives don't feel any differently.
Nigel Farage has defended his comments about the audience of the leaders debate, and said "the real audience is sitting at home". The independent polling company (not this one) responsible for fielding the audience said it was selected to reflect the balance of all parties.
PA image