Voters choose the Conservative party over Labour on defence issues, including Britain's ageing nuclear missile system
Defence has not be a major issue in the general election campaign, but a new YouGov poll shows it to be an area where the Conservatives have a clear advantage.
Asked which party would best handle the issue of Britain's armed forces and defence, 29% of voters opt for the Conservatives, while 21% tap Labour, giving the former an 8-point edge. UKIP and the Liberal Democrats receive only 7% and 4%, respectively.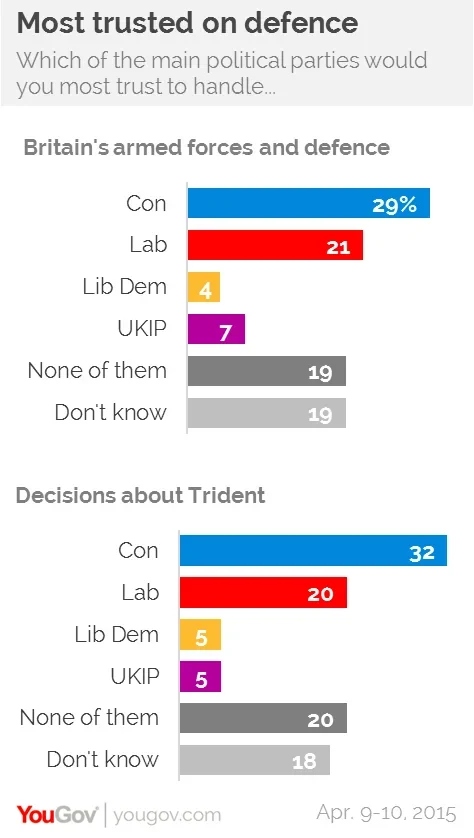 The Conservatives take a wider, 12-point lead when respondents are asked to think specifically about Trident, Britain's submarine launched nuclear missile system. 32% of voters say they trust the Tories most to make decisions about the future of Trident, while 20% pick Labour. UKIP and the Liberal Demorats are both on 5%.
The finding comes a week after Defence Secretary Michael Fallon claimed Labour would "barter away" the Trident system as part of a deal with SNP after the election.
Trident is nearing the end of its useful life and the next government will likely decide whether and how to replace it.
It's not clear from the poll whether any of the Tory advantage on the issue is rooted in Fallon's accusations against Labour. A YouGov/Sunday Times poll released this weekend found that 51% of the public think it was unfair of the defence secretary to say Ed Miliband stabbed his brother in the back – and that this was evidence he would betray Britain on Trident in exchange for SNP support.
The same poll found that 38% favour replacing Trident with an "equally powerful" nuclear missile system, while 28% want a less powerful, less costly system and 19% want it scrapped completely.
PA image