55% of British people support making it compulsory to vote in general elections – but young people are less supportive
An influential think tank has recommended making it compulsory for young people to vote in the first general election they are able to, not long after US president Barack Obama said compulsory voting for everyone could be 'transformative'. Australian citizens already face fines if they do not vote, and research suggests that compulsory voting can develop habitual engagement, lending support for the measure as a remedy to the UK's declining voter turnout since the 1990s.
In the middle of the election campaign, YouGov asks if people have a duty to vote on May 7th, and if they should be forced.
Most British people (55%) would support making it compulsory for everyone to vote in general elections, with majority support reaching across all the political parties. YouGov research in America found a completely different picture, with 66% opposed to compulsory voting.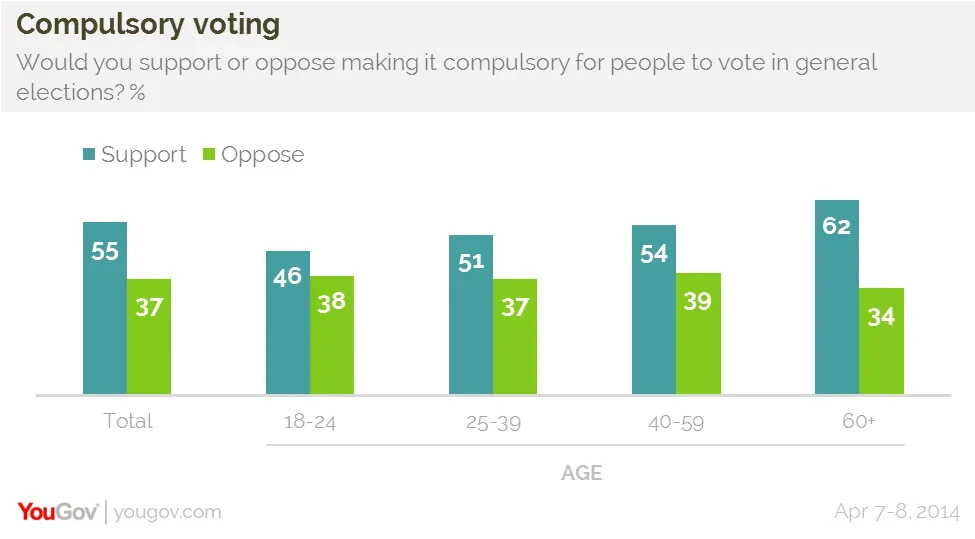 British 18-24 year olds, who were 23% less likely than over-65s to vote in 2010, are the only demographic to not support compulsory voting by a majority (46% support, 38% oppose). Over-60s, on the other hand, support the idea by 62-34%.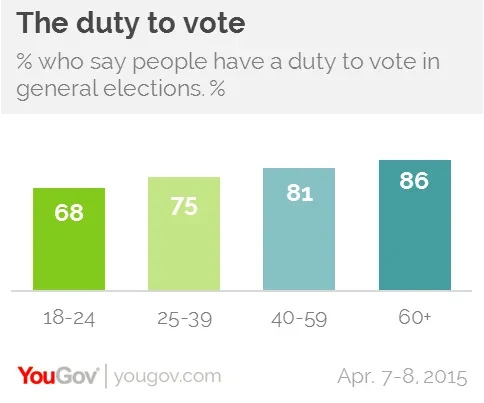 While the vast majority agree that people do have a duty to vote (80%), young people are also the least likely (68%) to think such a duty exists.
Despite strong support for compulsory voting, British people may wish there was a better way to encourage voter engagement. Most people (53%) say it is an individual's responsibility to decide whether to vote, rather than saying the government should work more to get people to vote (39%). And in a choice between compulsory voting and putting politics on the national curriculum, people are divided 32-32%.
In the general election of 1950, turnout was 83.9%. When Tony Blair was elected in 1997 turnout was 71.4%, but during his time in power it sunk to 59.4% in 2001 – the lowest level since 1918. This has since recovered slightly, to 65.1% in 2010.
PA images