UKIP continues to be viewed as the most 'sleazy and disreputable' of the political parties – and even UKIP voters are hesitant about their local candidates
Following claims that senior figures had been connected to the National Front and an endorsement by far-right group Britain First over the weekend, UKIP MEP and parliamentary candidate Janice Atkinson was on Monday expelled from the party over fraudulent expenses.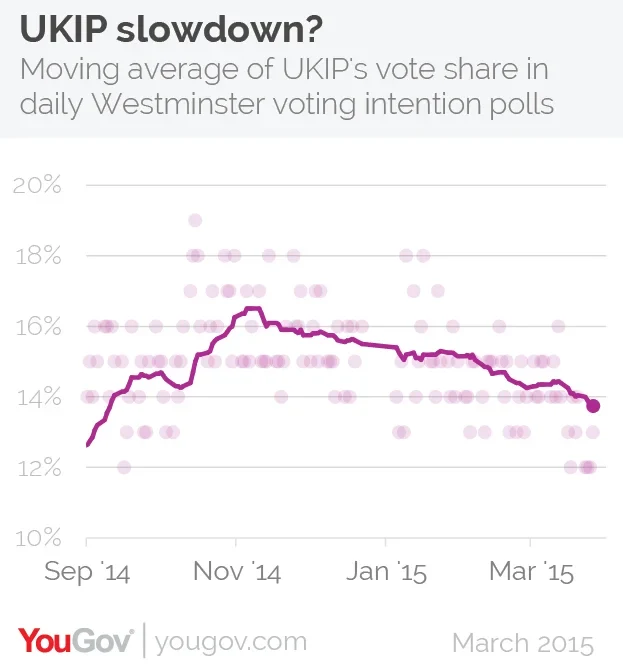 Nigel Farage said the latest allegations "couldn't look worse", and new YouGov research reveals they may be denting the party's image.
Three times this week UKIP's vote share has fallen to 12% – their lowest since September 2014. Last week they averaged 13%, which is a five point fall from their best weekly average of 18% in mid-October.
And in an update to YouGov's 'sleaze tracker', 63% of British people now agree that UKIP gives the impression of being 'sleazy and disreputable', up slightly from 59% in December. The figure is only just below the worst perception of sleaze YouGov has recorded, when in 2006, during the cash for honours scandal, 69% said Labour was sleazy.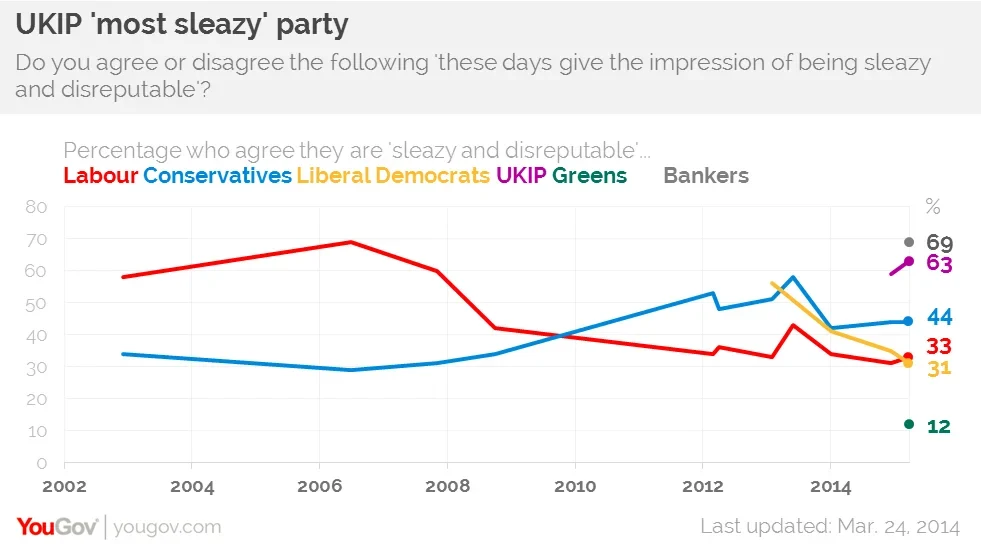 As an external reference, bankers have been included in the latest tracking data. 69% say they give the impression of being sleazy and disreputable. The Greens have also been included for the first time – only 12% say they are sleazy.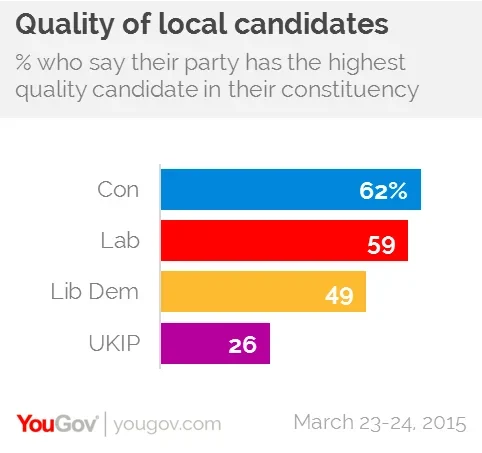 Additional YouGov polling also discovered low levels of confidence among UKIP voters in the quality of their local candidate. Whereas 62% of Conservative and 59% of Labour voters say their local candidate is the highest quality in their constituency, only 26% of UKIP voters feel the same way. 49% of Liberal Democrat voters say their party has the highest quality local candidate.
It should be noted that voters for the three main parties have a higher likelihood of knowing who their local candidate is, and this is reflected in the numbers: 25% of UKIP voters don't know who the best candidate in their constituency is, compared to 17% of Conservative and 21% of Labour voters.
See the full candidates results