Peter Kellner's latest election prediction sees the Conservatives gaining ground
George Osborne has the chance this week to assure the Conservatives of five more years in government. If his Budget goes down well with voters, his party could gain enough extra support to govern on its own. Its prospects of an overall majority remain slim, but David Cameron might be able to lead a minority government for a full five-year term against a splintered opposition.
At the moment, the Tories remain on course to be the largest party, but with too few MPs to rule securely. My new prediction puts the Conservatives on 297 seats, up four since last month, with Labour on 262, down seven. The changes have been prompted by signs of a slight decline in Ukip's appeal, which could help the Tories retain a few seats they would otherwise lose to Labour, and the SNP's continuing strength in Scotland.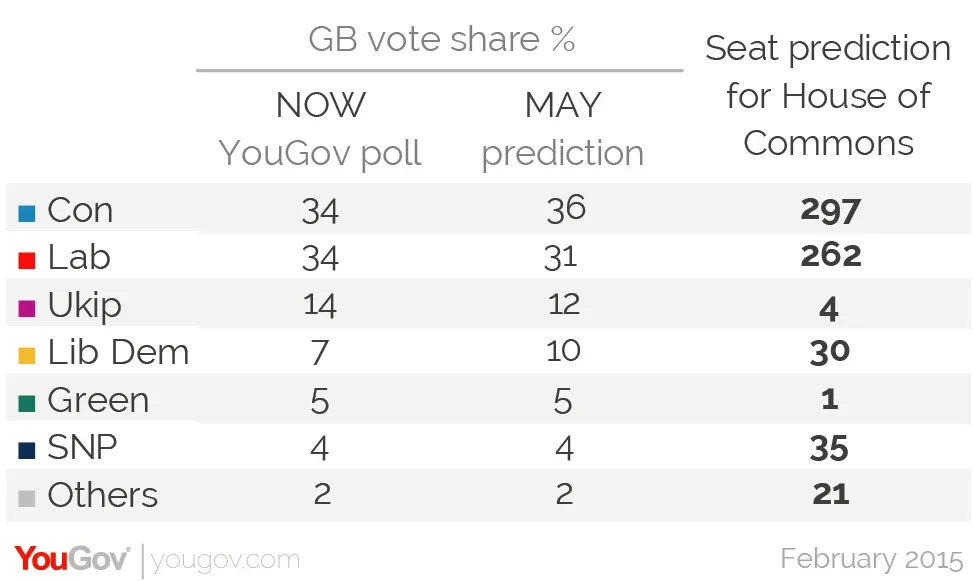 If a successful Budget could boost Tory support by just one extra percentage point, this could give the party up to 15 more seats. That would take its tally to 312. This is still short of the 326 seats needed for an overall majority; but in practice it would lose a major vote in Parliament only when almost every other party opposed it. With Sinn Fein's five MPs not taking their seats, and Ulster's Democratic Unionists up for a loose arrangement to support Cameron when it matters, the prime minister should be safe – unless a significant number of his own backbenchers chose to fight him.
What would a successful Budget look like? Our latest poll provides a clear pointer. Voters' top priority is help for low-paid families. Their favourite policies are increases in the threshold for income tax and national insurance.
If Cameron and Osborne do not find these figures sufficiently persuasive on their own, they should consider this. YouGov finds consistently that the Tories still suffer from their reputation as a party for the rich, led by people out of touch with normal voters' everyday problems. Eye-catching measures this week to dispel that reputation would do far more good than anything else – as long as voters believe that any tax cut is a reward for a growing economy and not a cynical election bribe.
Meanwhile Ed Miliband must hope that something happens to help Labour get back into a race that seems to be slipping away from him. YouGov has conducted fifteen polls in the past three weeks. The Conservatives have led in seven, Labour in just three. The previous three weeks produced eleven Labour leads, compared with just two for the Tories. Individual polling samples still vary, and the overall shift is small. But it is real; and given the historic pattern for Tory governments to do better than Labour oppositions in the final weeks before polling day, bad news for Miliband.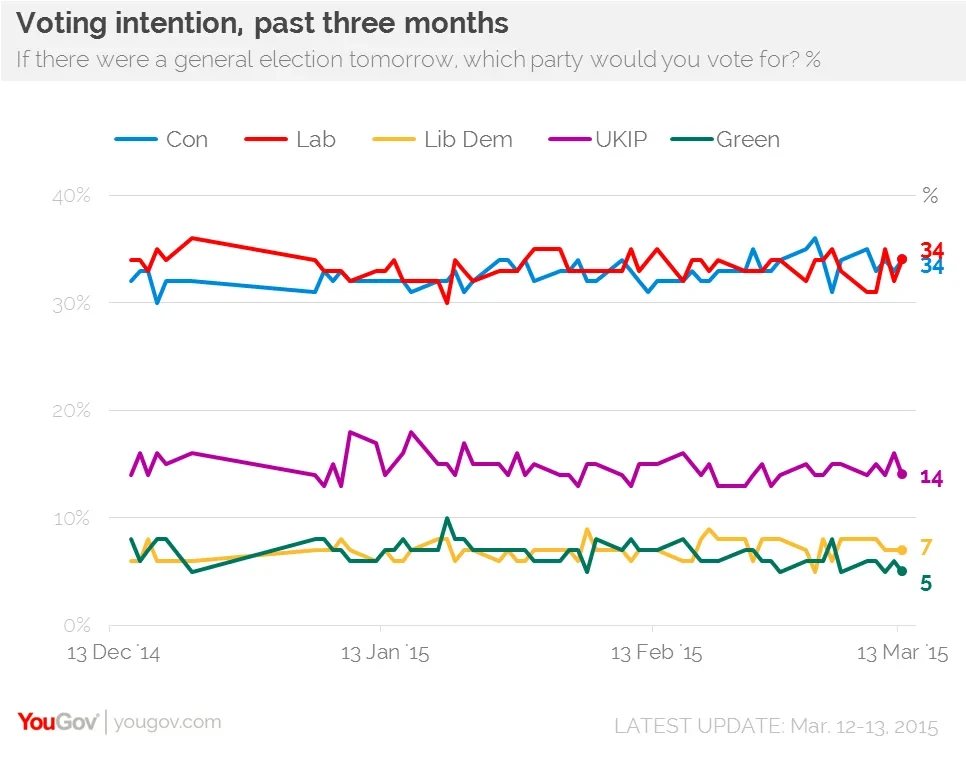 Labour's lead needs a game-changer, such as a head-to-head TV debate in which he gets the better of the prime minister. In contrast, Cameron will do all he can to avoid taking any risks. Instead he wants to control the political agenda – which is why both the policies and the tone of this week's Budget matter so much.
This commentary appeared first in the Sunday Times