British people tend to blame David Cameron rather than the broadcasters for the breakdown in talks over the TV debates – but are divided over empty chairing the final debate
YouGov research has consistently shown a strong public appetite for TV debates in the run up to the general election in May. In our latest polling for the Sunday Times, 69% say debates should be held, and 57% say they are good for democracy. But this week a breakdown in talks between the broadcasters and David Cameron over the format of televised talks has jeopardised what many (39%) see as a useful way of helping them decide who to vote for.
David Cameron's director of communications Craig Oliver had written to the broadcasters proposing his "final offer" of one 7 person debate in the week of March 23, after the broadcasters had settled on two 7 person programmes and one head to head between the Prime Minister and Ed Miliband. But on Friday the broadcasters defiantly chose to press on with holding three debates in April.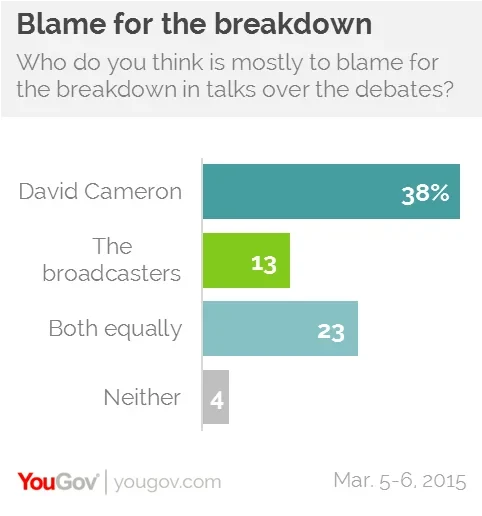 Mr Oliver suggested the collapse was the broadcasters' fault for not consulting the government on the format, excluding the DUP and scheduling the debates during the election campaign itself, however British public opinion is not on his side. People tend to say David Cameron (38%) is to blame for the breakdown in talks, rather than the broadcasters (13%). 23% say they are both equally to blame.
Rather than having a genuine reason for not wanting to participate in the three debates, people tend to say David Cameron is scared of standing against the other leaders, by 50-32%. The percentage believing the Prime Minister is actually trying to avoid a debate has also risen from 51% in January to 62%.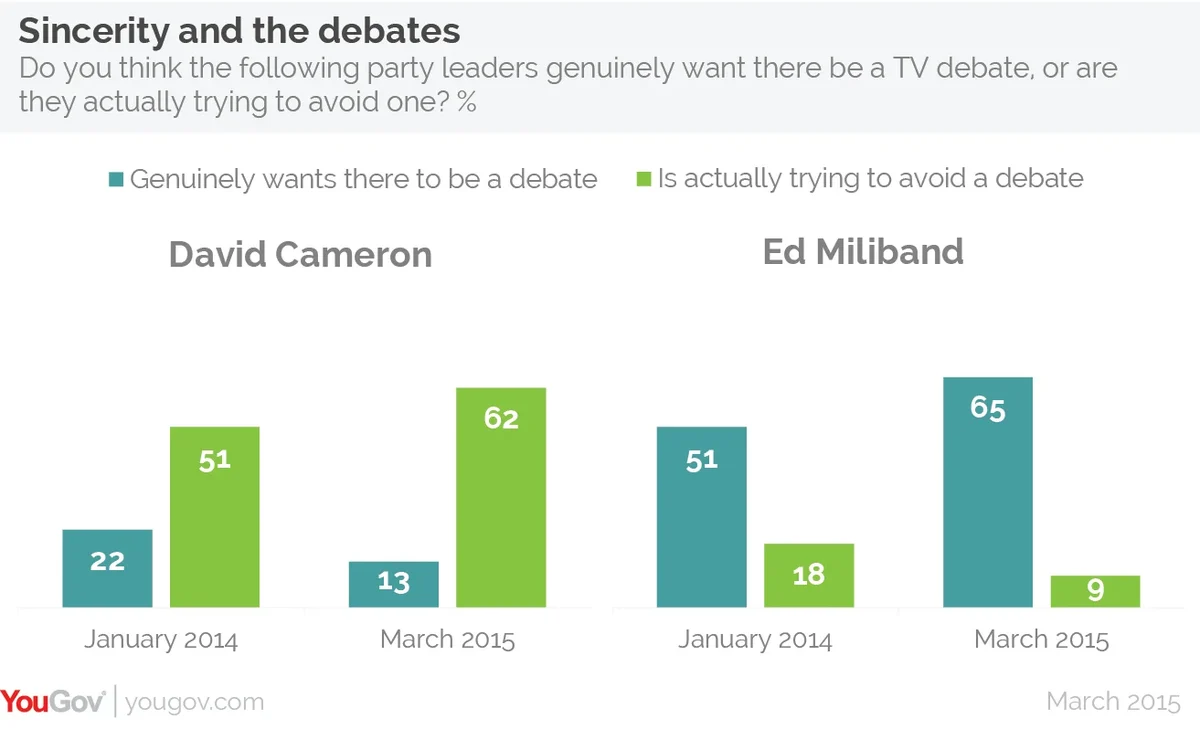 There are, however, now legitimate concerns over the legality of allowing the final head to head debate to be empty chaired. Strict regulations around political coverage during election campaigns could potentially rule out a free hour slot for Ed Miliband. Generally, most people (55%) think the debates should go on without David Cameron, however there is division regarding the final programme. 41% say if David Cameron does not show up then Ed Miliband should be interviewed instead, but 39% say there should be no programme.
In their statement on Friday the broadcasters said they "would like the prime minister to reconsider taking part in all of these debates. 22 million people watched the leaders' debates in 2010 and there is a public desire and expectation for them to happen again in 2015… The group have worked in an independent, impartial manner, treating invited parties on an equitable basis. They have listened to the views expressed by all parties and adapted the proposals to take into account electoral support".
PA image