Most British men and women favour an extension of paternity leave – and tend to say it would be worth the potential cost to business
Labour announced on Monday that it would extend paid paternity leave from two to four weeks, and increase paternity pay by more than £120 a week to £260 a week. The party says it can fund the £150m a year scheme by swapping welfare payments for state childcare. Extending free childcare from 15 to 25 hours a week would mean parents no longer had to rely on benefits to pay for it, according to Labour.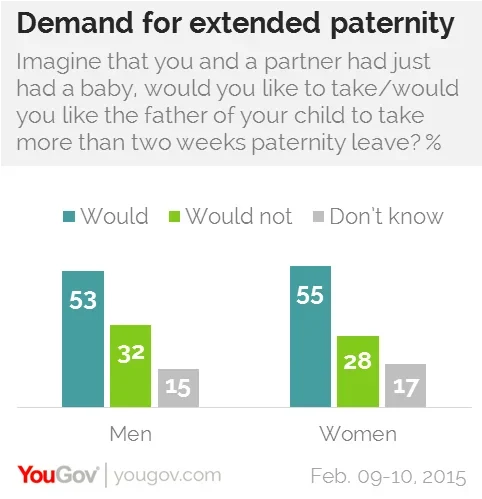 Ed Miliband said the policy is intended to improve father-child relations as much as it aims to ease pressure on mothers, and new YouGov research finds equal demand among men and women.
55% of British people would support extending the amount of paid paternity leave men are entitled to by law to 4 weeks. Conservatives oppose the policy by 56-36%, even though the question does not mention Labour.
When asked to imagine that they and a partner had just had a baby, 53% of men say that they would personally like to take more than two weeks paternity leave, and 55% of women say they would like the father of their child to do the same.
There are concerns among business leaders that, for small businesses in particular, extending paternity leave makes it more likely that companies will have to buy in replacement staff to cover absences.
60% of British people say the change would be negative for small business, compared to only 26% who say the same for big businesses.
Rachel Reeves, the shadow work and pensions secretary, said the expansion of paternity pay would be paid for government, not business. When these two competing facts are explained to the public – the cost of replacement staff and the government provision of paternity pay – they tend to think four weeks statutory paternity pay would be worth the potential cost to business, by 48-37%.
Even so, there is little consensus on where exactly the line should be drawn. 72% of British adults have an opinion, including 19% who say four weeks is the correct minimum. 36% say the appropriate length for paternity leave should be four weeks or more, while 27% say it should be one to three weeks and 7% say there should be none.