The vast majority of British people who have taken a yoga class say it is a stress-reliever and a good workout – but it's still a woman's game
Worldwide, Yoga is expected to reach a new peak in 2015, as practice in China booms and even theocracies – often frowning on yoga as a threat to state religion – get involved. The ancient discipline is losing its hippy feel; now available on app stores and in offices, with minimal equipment required, yoga has become marketable, and easily adaptable.
New YouGov research finds substantial confidence in the health benefits of yoga, especially among those who have tried it, but there is still a way to go to increase uptake among men.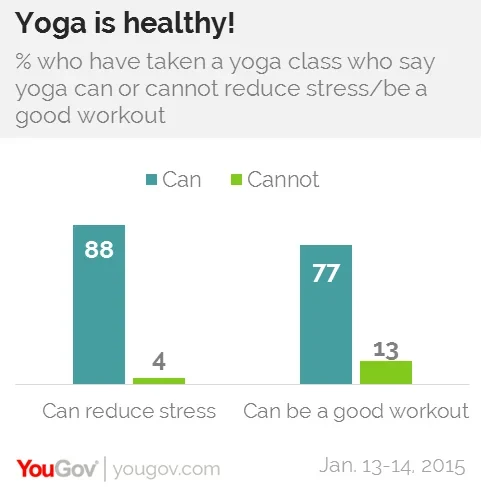 17% of British adults have taken a yoga class, or 29% of women and 6% of men. Londoners are also more likely (28%) to have tried a class.
Among those who have tried yoga, confidence in the good effects is near unanimous. 88% say it can reduce stress, and 77% say it can give you a good workout. 69% also say they would like to try it again, and by four to one they say it is underrated rather than overrated.
Still, there are substantial differences in attitudes between men and women. While 39% of women would like to try a yoga class in future, only one in six (16%) men would be interested.
The most commonly cited reason for not wanting to try yoga, for both men and women who say they're not interested, is that they're not flexible enough. But if one of the main benefits of yoga is increasing flexibility, this objection may be putting the cart before the horse.