British people have very little awareness of the Green party's policies – and awareness of UKIP's policies on Europe and immigration has actually decreased since November
It now looks like the Green party have succeeded in their bid to be included in TV debates in the run up to May's general election, following an announcement yesterday that the BBC and ITV would stage debates featuring the Conservatives, Labour, Lib Dems, Greens, UKIP, SNP and Plaid Cymru. Until now, the Greens prospects of appearing alongside the other leaders in debates looked dim, having been told they did not qualify for 'major party status'. David Cameron, however, protested that he would not take part in any debates if the Greens were excluded.
But new YouGov research reveals a very low degree of awareness of the Green party's policies – lower even than of UKIP's.
In seven out of nine of the policy areas polled, at least 74% of British people 'don't know anything' about what the Green party want to do. The worst areas are crime and pensions, where 81% and 83% respectively have no awareness of their policies. The environment is the only subject where more than 30% have at least a vague idea of the Green's stance (30% know the sort of approach they'd take, 24% know exactly what they'd do).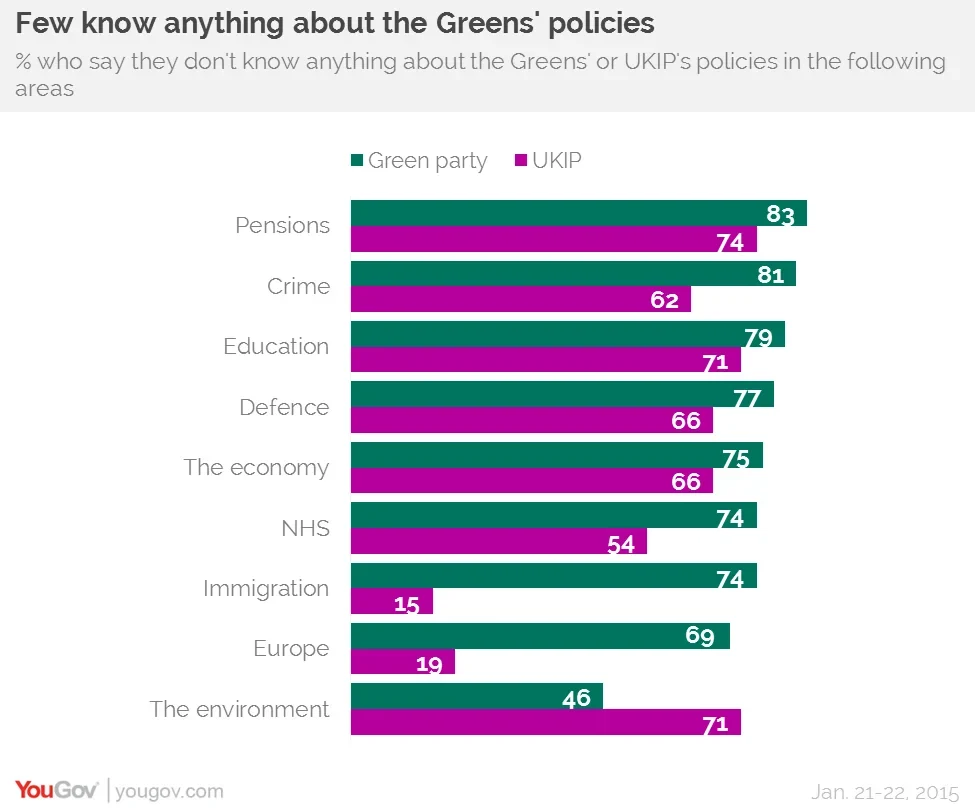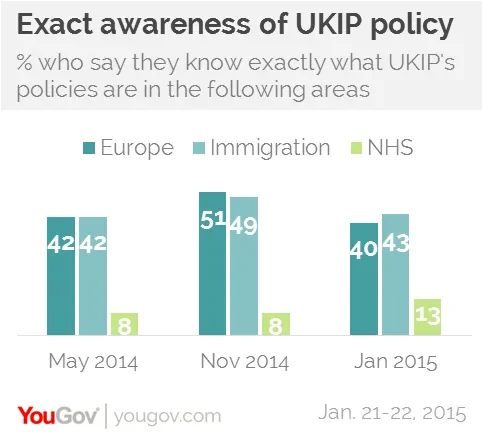 UKIP has a similar problem: in six areas at least 62% have no idea what sort of approach they would take. And despite the high levels of interest from the press, UKIP has failed to increase awareness of their policies. Compared to May of last year, there is little change; compared to November, fewer have an exact idea of what the party would do on Europe or immigration.
There has been a slight improvement in awareness of UKIP health policy (13%, up from 8%), despite confusion this week over whether Nigel Farage thinks the NHS should be privatised.
Many now argue that the broadcasters have called David Cameron's bluff over the TV debates, neutralising his opposition to debates that didn't include the Green party. He has yet to accept the invitation, however.