British people say the police and intelligence agencies should retain all of their communications data for 12 months – but tend to oppose a ban on encryption software
The attack on French satirical magazine Charlie Hebdo last week has added fresh impetus to the Conservatives' ongoing struggle to introduce new surveillance legislation. The Draft Communications Data Bill 2012 (dubbed the 'snoopers charter') would have extended data retention obligations on communications companies to include the metadata of social media, email and internet voice calls, however it was blocked by the Lib Dems. Now there is even greater need for such legislation, says David Cameron, because newer forms of encrypted communication such as WhatsApp and Snapchat may be 'unreadable' by intelligence.
YouGov research for the Sunday Times finds the British public supportive of increasing the security services' access to public communications in order to fight terrorism (by 52-31%).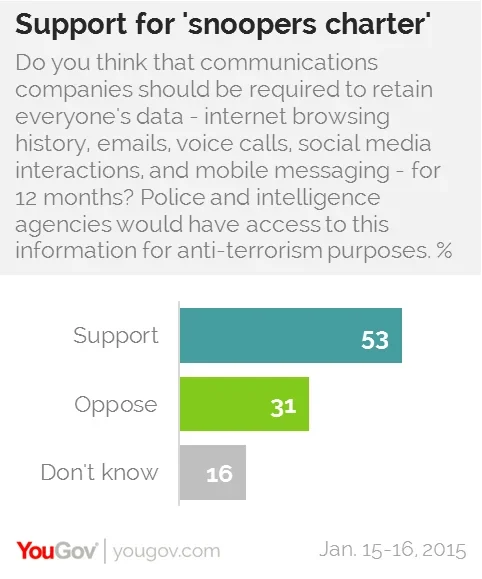 Most people (53%) say that, specifically, phone and internet companies should be required to retain everyone's internet browsing history, emails, voice calls, social media interactions, and mobile messaging, which the police and intelligence agencies would be able to access for anti-terrorism purposes. 31% would oppose giving the security forces these powers.
The 2012 Communications Data Bill required security services to receive a warrant from the Home Secretary before they could access the content – not merely the who, when, where and how (the metadata) – of a communication. By 51-35% the public support this qualification, as opposed to giving intelligence agencies their own general powers of access.
Doubts certainly exist over the trustworthiness of institutions who could be granted the new powers however. While there is a tendency to trust MI5 and MI6 to behave responsibly (63% trust, 29% do not), there is near division over the trustworthiness of the police to do so (50% trust, 42% do not), and clear uncertainty with regards to politicians and civil servants (45% trust, 46% do not).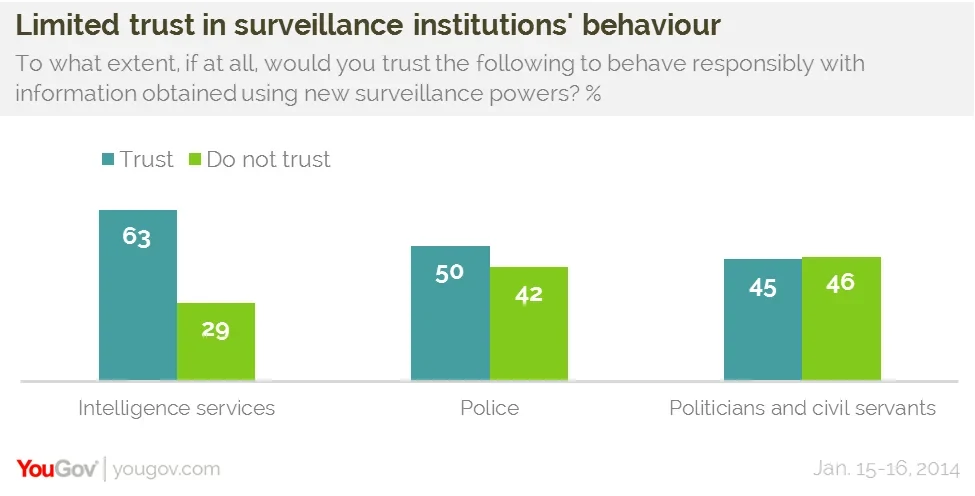 And despite the general willingness to offer up personal data in the fight for security, there does seem to be a red line: 43% would oppose a ban on encryption software, while 29% would support it.
The Special Relationship
David Cameron has been in Washington this week, meeting with Barack Obama to discuss bolstering the US and UK economies, on Thursday, and getting technology companies like Facebook and Google to permit government access to encrypted messages, on Friday.
British media has been positive about the visit, taking it as a sign of the "special relationship" that exists between the two countries. British people themselves, however, while agreeing the relationship is close (61%), say the relationship is not in fact special – "it's just like those with other British allies", say 52%.