In December the Green party was on 22% among 18-24 year-olds – tied with the Conservatives for second place
The Green party may not be classified as a major party by Ofcom, but new YouGov research has put the Greens in second place among young people.
Aggregating each month's daily polls over the course of 2014, the Green party had a 22% share of the vote in December among 18-24 year-olds – tied with the Conservative party, also on 22%.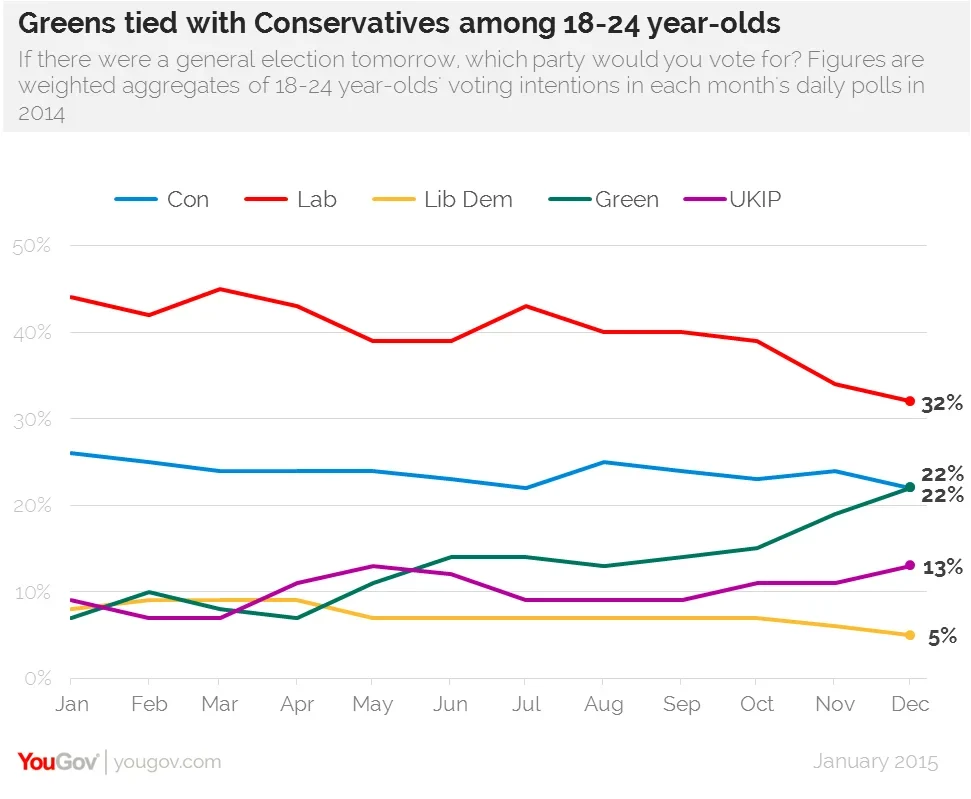 Meanwhile, Labour's share has continued to fall among young people. In December it stood at 32%, slightly below their average for the country as a whole (33%). To put this into perspective, 44% of the younger generation said they would vote Labour in January 2014.
The Liberal Democrat youth vote share (5%) is under half that of UKIP (13%). On the eve of the 2010 general election, YouGov had the Lib Dems on 37% among the broader age group of 18-34 year olds
Doubt has been cast over Green participation in any forthcoming TV debates due to their failure to achieve "major party status". Ofcom said the party had not "secured sufficient support in previous elections and current opinion polls to be added to Ofcom's major party list for the purposes of the May 2015 elections". The Greens still have until February to make their case however, before a final decision is made in March.