For the second year running, a clampdown on immigrants' welfare rules has won the Sunday Times/YouGov new year knock-out policy contest.
Last year, a two-year ban on welfare payments emerged victorious, sparking a national debate on the issue. This year, the four-year ban recently proposed by the Prime Minister, wins the day.
Our annual contest is unlike other surveys. Instead of asking voters whether they support or oppose each of 16 ideas, we pitch the policies against each other and ask people which they prefer. The contest proceeds like Wimbledon or the FA Cup. Starting with eight pairs, the "winners" proceed to the next round of four pairs, and so on until a winner emerges.
This year's runner-up is a policy that none of the main parties wants: renationalising Britain's railways when the current franchises of each operator expire.
David Cameron will be pleased that his flagship policy on immigration wins such a ringing endorsement. However, he should beware the fate of another of his ambitions, to hold a referendum on British membership of the European Union. This was knocked out in the first round by one of Ed Miliband's most noteworthy pledges: to freeze gas and electricity prices for up to two years. A policy that would have a modest, short-term impact on the cost of living has trumped a commitment to start a process that could have huge consequences for Britain for decades to come.
The less good news for Miliband is that other significant round-one casualties were a mansion tax on homes worth more than £2 million, reducing student tuition fees from £9,000 a year to £6,000, and giving Scotland more powers to decide income tax rates and how to spend the money it receives. (This is popular in Scotland, but has little appeal south of the border.)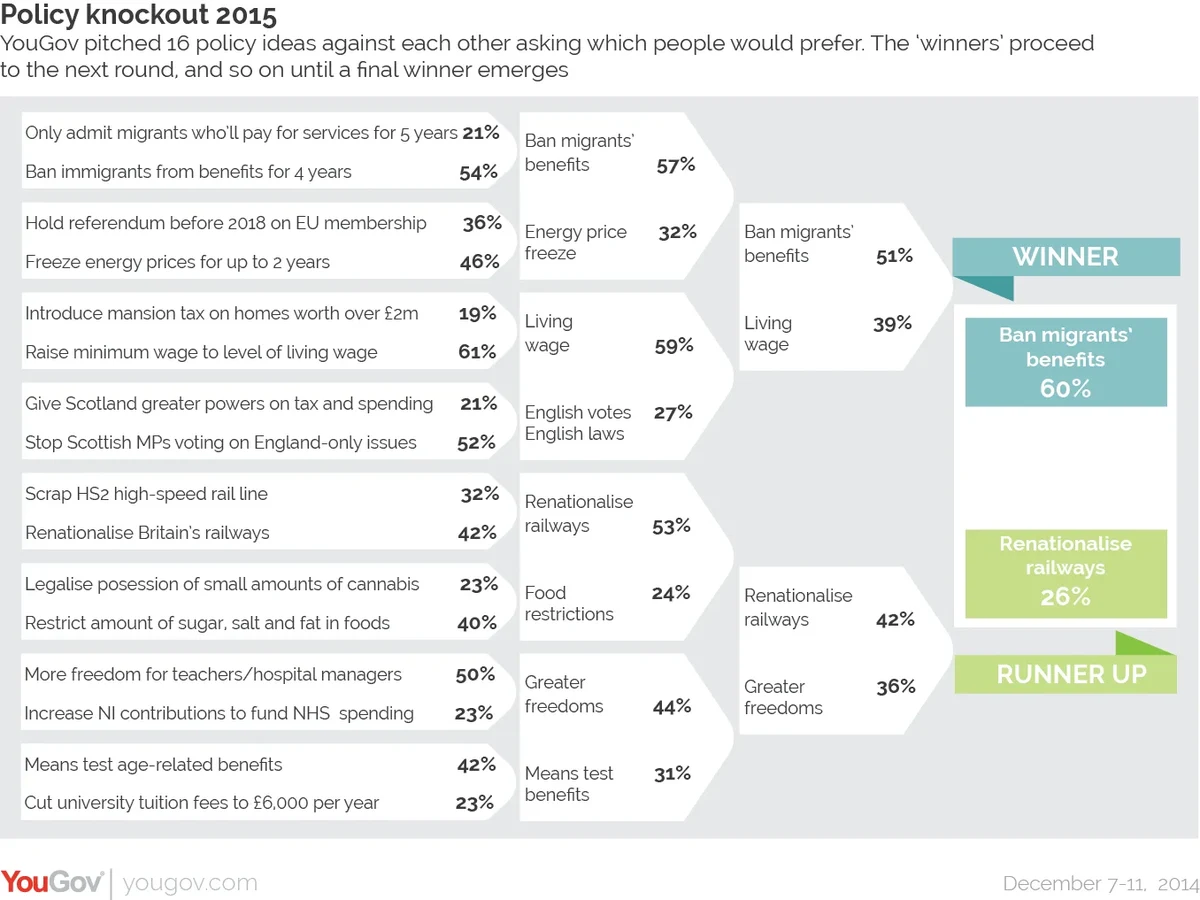 One sign of the times is the popularity of giving head teachers and hospital managers more freedom to decide local priorities, instead of being bound by national rules. In round one it easily defeats the idea that national insurance rates should be increases to provide extra funds for the NHS. In round two it defeats a policy to curb the benefits, such as the free bus pass and winter fuel allowance, available to richer pensioners. Public sector reform now appears to be more popular than widely-canvassed ways to raise more cash to pay for public sector services. In both rounds, even Labour supporters back local freedom over ways to find extra funding.
Constitutional issues appeal far more to politicians than voters. Not only do an EU referendum and extra powers for Scotland fall at the first hurdle; voters have little enthusiasm for the notion that English MPs alone should have the right to decide English laws. This is defeated in round two by more than two-to-one by the call to raise the £6.50-an-hour national minimum wage to the higher living wage (calculated by its supporters to be £9.15 in London, £7.85 elsewhere).
Those findings illustrate one of Cameron's problems at the start of election year. At the heart of his plans for a majority Conservative government are huge changes in the way parliament works, in relation to both Scotland and the European Union. The bills to give effect to these will be fraught and time-consuming. Many voters may come to see these as distractions from the bread-and-butter issues that affect their daily lives.
At the same time, our survey contains a clear warning to Miliband. His emphasis on living standards makes clear sense in electoral terms – hence the popularity of the energy price freeze and the rise in the minimum wage. But while both these policies score clear round one victories, they fall in turn when pitched against the four-year ban on welfare payments to new immigrants. Labour is unlikely ever to win a race to outflank the Tories, let alone Ukip, on immigration; its task is to find a way to stop immigration so dominating this year's election that it crowds out other issues on which Labour has greater appeal.
Despite Ukip's breakthrough last year, winning the European Parliament election and two seats in the House of Commons, its two most prominent policies fall in round one. Not only does an EU referendum lose out; so does Ukip's demand that the only immigrants who should be admitted to Britain are those who have the money to pay for private health, housing and education for their first five years in Britain.
On the other hand, our poll suggests Ukip's emphasis on the broader issue of immigration will help it to remain a thorn in the side of the main parties as they gear up for May's election.
This commentary first appeared in the Sunday Times