Confidence in Britain's economy over the next 12 months has dropped 23 points since March
George Osborne will announce a series of new infrastructure projects, plans to tackle tax-avoidance, a review of business rates and extra spending on the NHS in his Autumn Statement today, but he will face criticism over the size of the UK's budget deficit. The Chancellor is expected to admit that net borrowing for the year will reach around £95bn, greater than the £86.6bn forecast in March.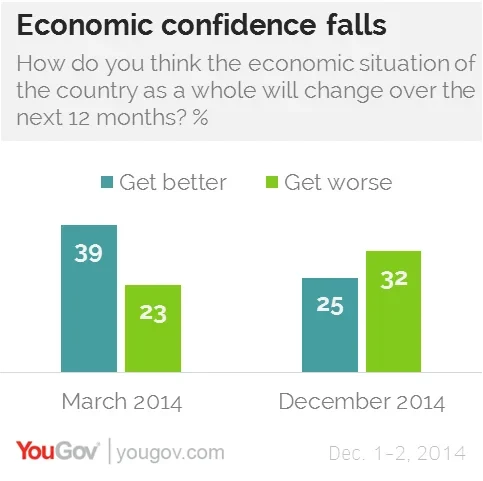 This is not the first time the Coalition government has missed borrowing targets – in 2010, the deficit was supposed to be eliminated by 2015/16 – but an improving economic situation has helped it be forgiven. Now, however, new YouGov research for the Sun finds that confidence in the economy has fallen.
At the time of the last Budget, 39% thought the country's economic situation would improve over the next 12 months and 23% thought it would get worse – a net score of 16. This has now fallen 23 points to -7: 25% say the economy will get better and 32% say it will get worse. 5% more people now say the economy will not get any better or worse.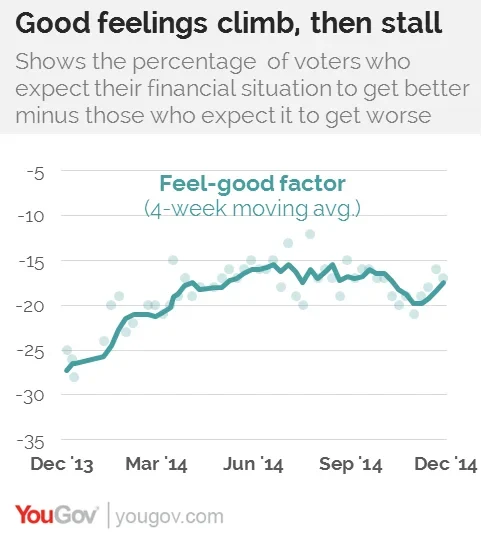 At the same time, confidence in personal finances has stalled. While the percentage of British people expecting their finances to improve over the next 12 months steadily climbed from December 2013 to July this year, there has been no improvement – and a 1.5 point fall – since. November saw a 1.7 point increase in confidence compared to October, however.
The Chancellor will tell voters that Britain faces a choice between a government committed to eradicating the structural deficit by 2017-18, or a Labour government who would endanger the recovery.
George Osborne enjoys a 13 point lead over Ed Balls on who would make the better Chancellor, however his job approval rating has dipped 5 points since March, to -8.
Former Conservative Chancellor Ken Clarke claimed that although failing to meet borrowing targets was unintentional, "it was very sensible we didn't do it that quickly". Had Mr Osborne met his goal of eradicating the deficit before the election, he said, the UK would have been in a "bad way".