Most British people think of Britain as a highly consumerist society – and young people are much more likely to have bought things they don't need
Black Friday was Britain's busiest shopping day ever according to retailers, and the following online-only Cyber Monday promised to continue the frenzy: consumers were expected to spend £451,000 a minute – a 26% increase on the same day last year. On Friday shoppers fought in supermarkets for discounted electronics, and stores were criticised for failing to ensure adequate security. One customer summed up the day: "I got a Dyson but I don't even know if I want it. I just picked it up".
The event, imported from the US a few years ago, is evidence of the increasingly consumerist society which most people think is already dominant.
84% of British people say that consumerism (encouraging the acquisition of goods and services in ever-greater amounts) has become a feature of Britain. The belief is so emphatic that, although public opinion usually tends towards the moderate side of any question (the 'fairly' rather than the 'very'), a full majority of British people (51%) think their country has become 'very' consumerist.
Young people are also considerably more likely to say they have bought something they didn't need, just because it was on sale. 61% of 18-24 year-olds say this, compared to just 34% of over-60s.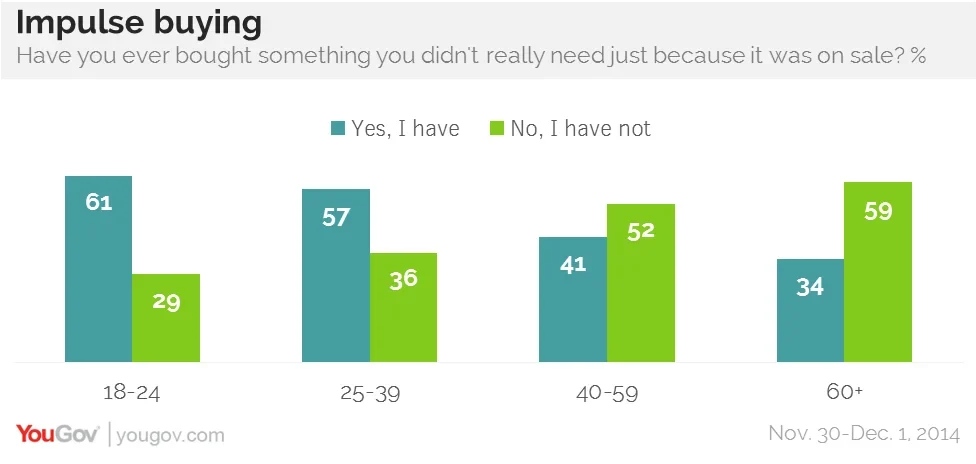 The survey also asked if British people think that money could buy happiness. Although most people think it cannot (53%), men are more likely (43%) than women (29%) to say that it can. And while in all of the British regions apart from London most people say money can't buy happiness, in the Capital people are divided 42-42%.
A 50 inch Blaupunkt TV on sale for £100 at Tesco was the source of much of the violence on Black Friday. Two men were filmed throwing punches at each other for it in a store in Worcestershire, while pushing, punching and shouting was spotted in Glasgow as shoppers struggled for the goods.