A significant minority of voters would find it hard to stay friends with a UKIP convert
It may have been too little, too late, but the Conservatives briefly made headlines with warnings that making Rochester and Strood a UKIP constituency would lower the value of homes there.
The last-ditch effort clearly wasn't enough – the UKIP candidate, Mark Reckless, won with a majority of nearly 3,000 votes – but it did raise the question of whether there was a particular stigma attached to voting UKIP, and new YouGov research suggests there is to a greater degree than any of the other main parties.
To test this, YouGov asked the following question about supporters of the four main parties: How would you feel if a good friend of yours became a supporter of ­­­_________?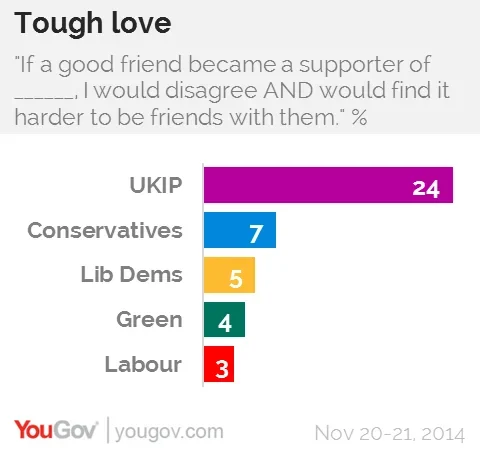 Respondents were allowed to say whether they would 'agree' or 'disagree' with their friend, but also whether it would affect their friendship either positively or negatively.
It revealed that while most Labour voters would (predictably) 'disagree' with their friend if they began supporting the Conservatives, few (only 14%) would find it harder to stay friends. The same was true of Conservatives on a Labour-supporting and Lib Dems on a Labour- or Tory-supporting friend. Overall, only 3% of voters would find it difficult to be friends with a Labour supporter, 3% would find it difficult with a Green supporter, 5% for a Lib Dem and 7% for a Conservative.
With UKIP, the numbers are much higher. One in four voters (24%) would find it harder to stay close with a 'good friend' if the friend became a UKIP supporter. While most voters still wouldn't feel this way – 31% would even 'agree' with their newly UKIP-supporting friend – the response to the UKIP convert is significantly more negative than for other parties.
The negative sentiment towards UKIP was much more common among Labour (40%) and Lib Dem voters (42%) than among Conservative voters (13%).
PA image