Most people favour a ban on 'vaping' in advertisements, against a third who want it allowed
This week the first-ever television advertisement for e-cigarettes appeared on British TV, following a change in advertising rules. Advertising for tobacco cigarettes remains banned, as it has been since 1965, but recently the Committee of Advertising Practice ruled e-cigarette 'vaping' – which involves inhaling nicotine vapour rather than smoke – could appear in advertising under certain conditions.
A new YouGov poll finds that most British people (52%) think advertising for e-cigarettes should be banned. Only a third (34%) think these advertisements should be allowed and another 14% don't know.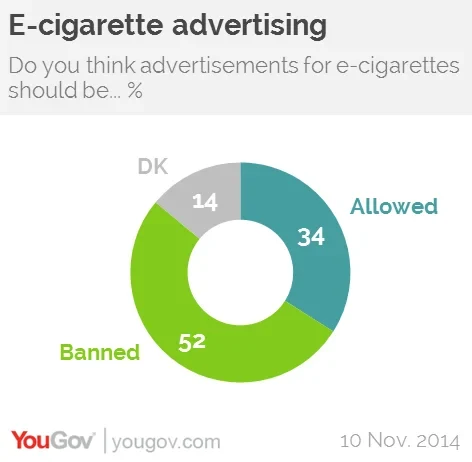 Under the new rules, e-cigarette advertisements must not claim 'vaping' is healthier or safer than smoking tobacco or target under-18s.
The survey reveals a public skeptical of vaping in general. Six in 10 (58%) believe the use of e-cigarettes should be banned in public indoor places, like bars and restaurants, an identical number as said so in August. Majorities also believe the sale of e-cigarettes should be restricted to over 18s and that flavoured e-cigarettes should be banned.
PA image