The large collapse in consumer confidence picked up over the first three weeks in October got even worse in the final week of the month, fresh analysis from YouGov and Cebr shows.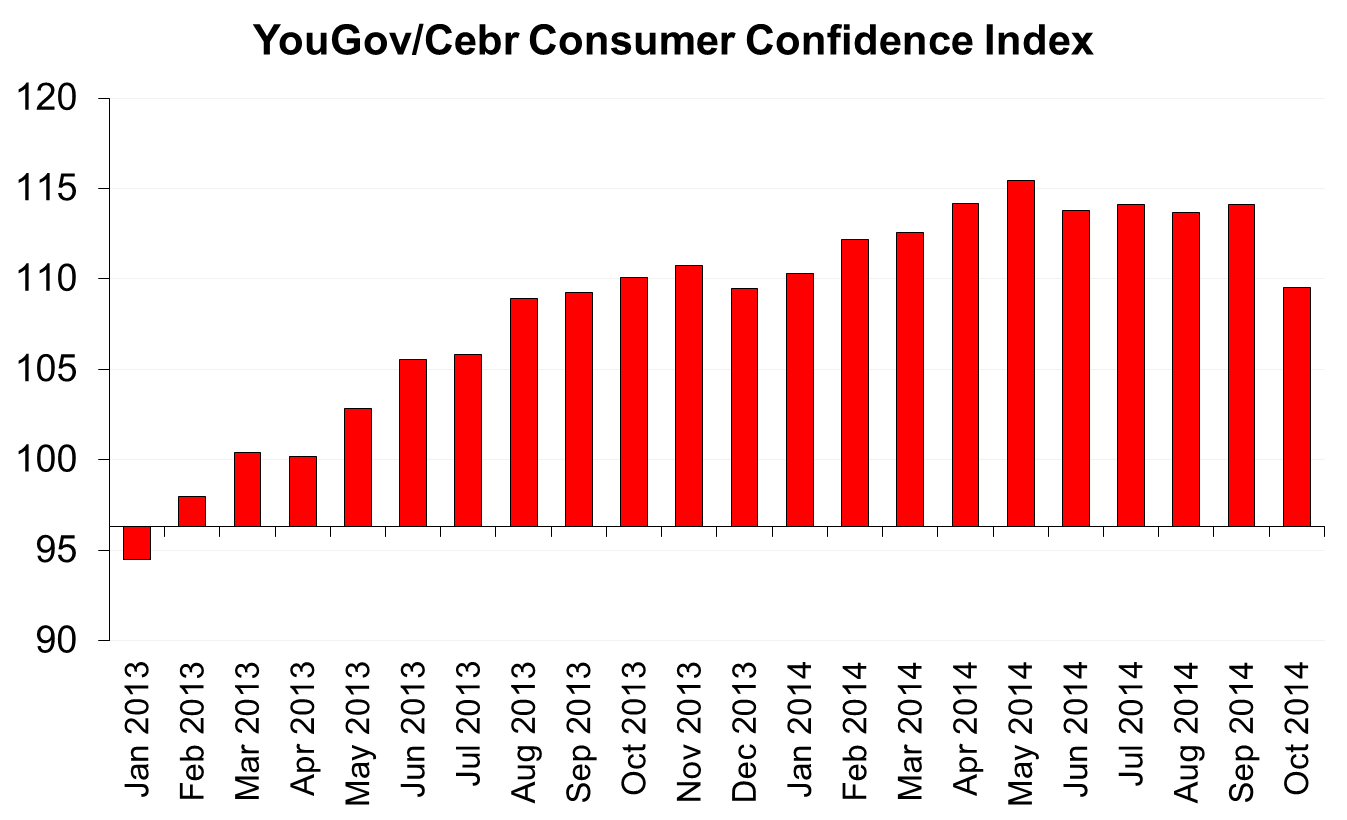 Source: YouGov/Cebr HEAT data, October 2014
Notes: Axis value of 96.3 represents the average YouGov/Cebr Consumer Confidence Index score since the data set began in 2007.
The new figures – that include data collected from all four weeks of the month – show that the YouGov/Cebr Consumer Confidence Index has fallen by 4.6 points in October. This is the largest month-on-month fall since July 2010 and it now stands at 109.5 – its lowest level since December 2013.
Following the fall in consumer confidence first picked up in figures earlier this month, YouGov and Cebr updated their data with respondents from the last week to see if it had stabilised. Instead, the numbers show people have become more pessimistic, with consumer confidence weakening further between 22 and 28 October.
All eight measures that shape the overall consumer confidence score have fallen in October as people sense a change in the economic climate. Experiences (over the past 30 days) and expectations (over the coming 12 months) of household finances, job security, business activity at their workplace, and house prices have all fallen since September.
YouGov collects consumer confidence data on a daily basis, interviewing 7,000 people a month. This continuous tracking of consumer sentiment means it is the most up-to-date measure of consumer economic sentiment in the United Kingdom.
Stephen Harmston, Head of YouGov Reports: 'These figures make grim reading in the run up to Christmas and unless something dramatic happens in the next month the festive season could be a very tricky one for retailers. The collapse in consumer confidence this month is startling and it has actually got worse as the month has gone on. The fall is so great because confidence has weakened across the board - all eight measures we use to gauge economic optimism fell, indicating just how fragile the recovery is. While the economic figures paint a rosy picture, consumers are not yet feeling the recovery in their wallets.'
Charles Davis, Director at the Centre for Economics and Business Research: 'This drop in consumer confidence cannot be ignored and suggests the UK economy is definitely slowing as we move towards Christmas. While the economy has grown briskly this year many households are still yet to feel the benefit as pay growth remains sluggish and now business looks to be slowing. This YouGov/Cebr data underlines the view that interest rates will stay on hold for some time yet - almost certainly not rising before the next election.'
Look here for more information about the Household Economic Activity Tracker
Image from PA