27% of British people who have posted online admit to behaviour that could count as trolling – among young people the figure is 43%
Justice Secretary Chris Grayling recently told the Mail on Sunday that 'internet trolls' who subject others to sexually offensive, verbally abusive or threatening material online could face two years in prison, quadrupling the current six month maximum sentence for such offences. The law will apply to the most serious cases of online abuse, but 'trolling' also refers to deliberately inflammatory, upsetting or irrelevant online postings that may not be criminal.
New YouGov research analyses the prominence of internet trolling, finding its non-criminal form to be prevalent, and particularly common among the younger generation.
From a list of examples of behaviour that could count as trolling, 73% of British people who have made posts or comments do not admit to having done any of them. This equates to 27% of internet commenters admitting to posting some form of malicious content online, however.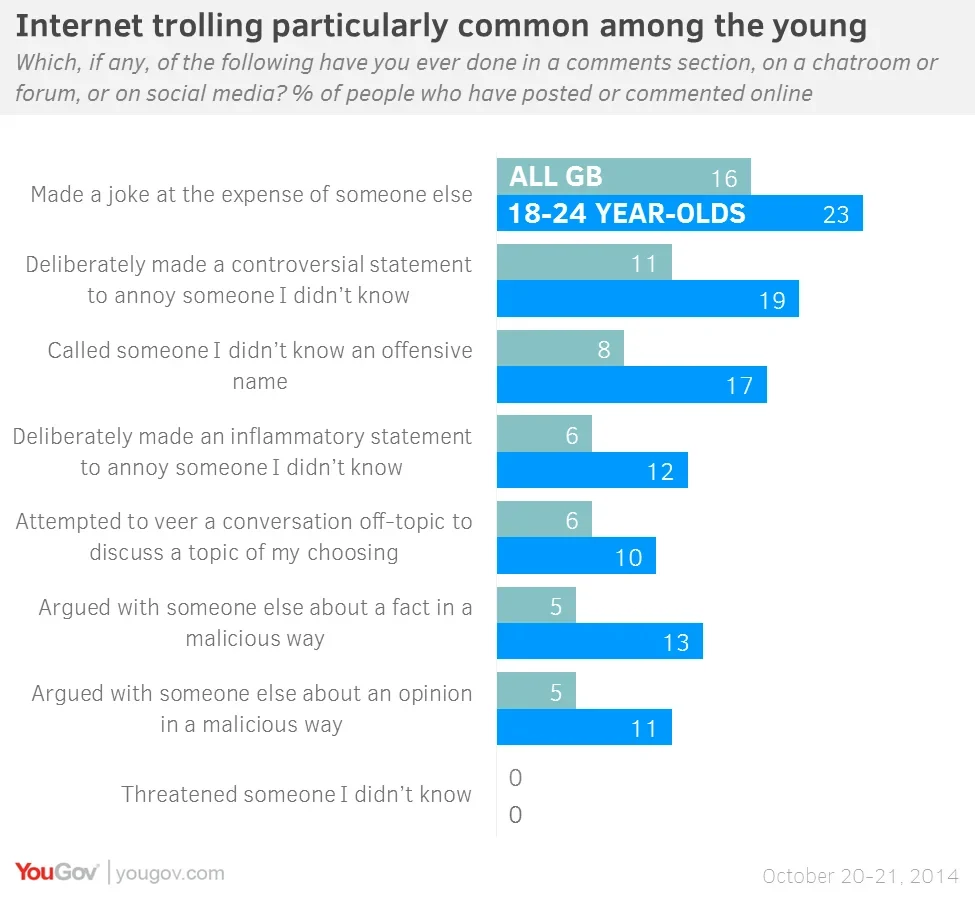 43% of 18-24 year-old internet commenters admit to at least one form of trolling behaviour.
The most common form of trolling is making jokes at the expense of others (16%), followed by deliberately making controversial statements to annoy someone (11%). 8% of internet commenters have called someone they didn't know an offensive name, or 17% of 18-24 year-olds.
If you don't like trolling…
Mr Grayling's proposal came days after TV presenter Chloe Madeley was subjected to rape threats online, for defending her mother Judy Finnigan's comment that a rape commited by footballer Ched Evans was "non-violent".
Controversial TV personality Katie Hopkins later expressed the view that 'if you don't like trolling, get off Twitter'; the sentiment of which is agreed with by 32% of British people. 51% disagree, however.
The Justice Secretary's new laws are highly popular, supported by 76%, but enforcing the rules could be difficult. Academics say that proving intent in threatening online material is less straightforward than in reality; while the content of threats is equally malicious, showing that the offender really means what he or she says, or that they have the means to carry it out, is rarely black and white.