Most British people would support a ban on e-cigarettes being used indoors – and half support a ban on smoking tobacco in public open places such as parks
The World Health Organisation called for a ban on the use of e-cigarettes indoors over the summer, warning that the products could increase cigarette use among children and pollute the air with harmful chemicals. Ministers have ruled out such a ban in England, however a number of popular pubs, restaurants and coffee chains look set to adopt prohibition voluntarily.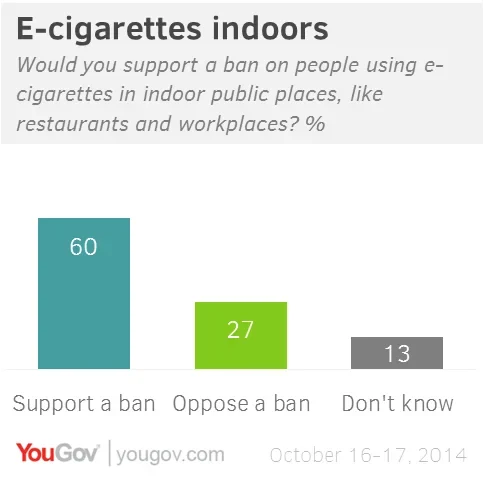 New YouGov research for the Sunday Times finds that British people support the idea of banning e-cigarettes from being used in indoor public places such as restaurants and workplaces, by 60-27%.
The World Health Organisation are cautious of reports that e-cigarettes are useful for those trying to quit smoking, but YouGov finds that former smokers are almost as likely (9%) to say e-cigarettes were useful in helping them give up as nicotine patches, which score as the most helpful (by 10%). Nicotine gum and NHS services are, in contrast, only found useful by 6% of ex-smokers.
And amid concerns that e-cigarettes could act as a gateway into smoking tobacco, the survey finds that only 1% of 18-24 year-olds say they currently use e-cigarettes but have never smoked tobacco.
Tobacco in open spaces
Last week former health minister Lord Darzi proposed a number of new initiatives as part of the London Health Commission, including banning tobacco smoking in open public spaces such as parks and famous landmarks.
Boris Johnson is expected to adopt the proposals in London, and British people tend to support the idea by 50-39%.
Michael Bloomberg, former-mayor of New York, where smoking in parks, paths, beaches and golf courses is already banned, said London should follow suit: "London's new initiative would be a major achievement because no other capital city boasts so much parkland." Lord Darzi's other initiatives include banning fast food outlets from opening within 400m of schools and introducing a 50p minimum price per unit of alcohol. Experts have also recommended banning smoking in cars with child passengers.
Image: PA