Voters tend to predict that the Liberal Democrats will fade from relevance by 2025 – but that UKIP will remain an important political force
Over the weekend the Liberal Democrats began setting out "red lines" that would keep the party from joining the Conservative Party if certain promises were not fulfilled, including raising taxes on wealthier Britons. As they begin to wrap up their conference in Glasgow, the Lib Dems hope to set themselves up as a potential moderating influence in a coalition with one of the larger parties, while also setting themselves apart from their current Tory partners.
However, new YouGov research with the Times Red Box reveals that the British people have serious doubts about the Lib Dems' future as a viable political party, let alone their role in a coalition if there is a hung parliament after next year's election.
48% of the public expect the Lib Dems to fade away as a force in British politics within the next 10 years; 25% believe the party is here to stay.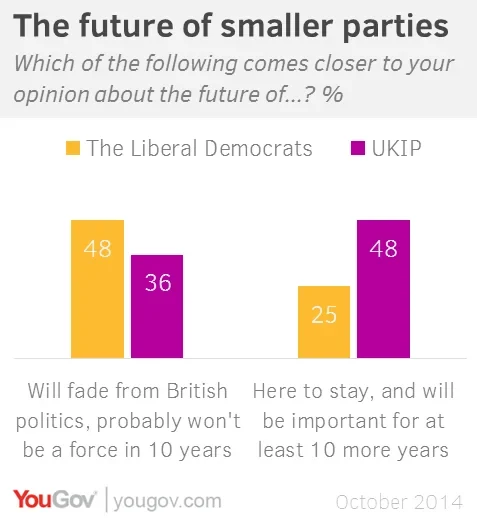 In the same survey 8% of respondents expressed an intention to vote Lib Dem, and three-quarters of these voters are confident the party will be relevant in 2025. The rest are split evenly between those who aren't sure or express doubts.
The latest numbers bear a striking contrast with the public mood about the rise of UKIP. During that party's conference in Doncaster two weeks ago, YouGov revealed that 48% expect UKIP to stick around, and only 36% think the party will fade away.
The Lib Dems currently have 57 MPs. Due to their concentrated support in key constituencies, they could plausibly receive a lower vote share than UKIP nationally but still win more MPs. However, as YouGov's Peter Kellner recently noted, even halving the number of Lib Dem MPs when other small parties like the SNP and UKIP make gains could seriously jeopardise their ability to serve as the sole partner in a coalition with the largest party – something which could drastically limit their leverage at the negotiating table.
Image: PA