The Conservatives have edged ahead of Labour for the first time since March 2012, before that spring's "omnishambles" budget. The Tories have 35%, with Labour on 34%
On its own, a single poll should be regarded with some care. A one-point lead is well within sampling error; and YouGov has frequently reported very small Labour leads in recent weeks. Our latest figures are not so very different from those. Or, the poll may be a blip, reflecting a real but short-lived boost for the Tories following their party's annual conference and David Cameron's well-received speech. The days ahead will tell us whether there has been a lasting shift in perceptions of the parties seven months ahead of next year's election.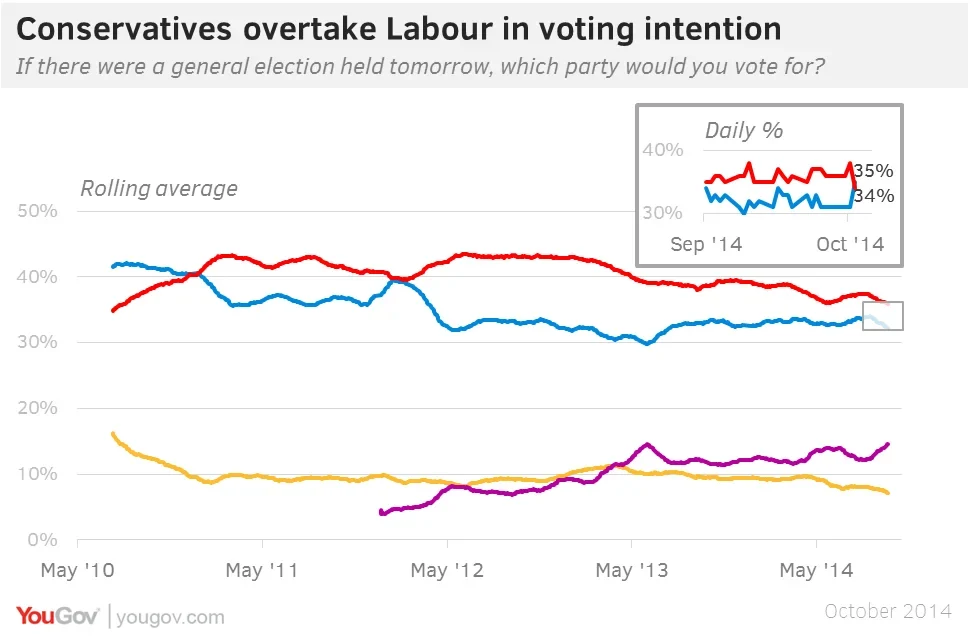 Meanwhile, YouGov's figures in recent days have been far better for the Conservatives than for Labour. Ed Miliband received big conference boosts to his ratings last year and the year before, but barely any this year. The flatness of Labour's conference in Manchester is matched by its underwhelming poll ratings.
The Tories, in contrast, can smile after a conference that started so badly, with news of a ministerial resignation and a second MP defecting to Ukip.
The big – and, indeed, medium-sized – issues remain unresolved. Can the Tories turn their big lead over Labour on the economy into extra votes as the election approaches? Can Miliband persuade floating voters that he is up to the job of prime minister? Can Ukip hold on to the voters, mainly but not exclusively Tories, that it has won over in the past two years? Can the Liberal Democrats revive their terrible fortunes (they are down to just 6% in our latest survey)? Could the SNP overrun some of Labour's strongholds in Scotland?
YouGov's latest poll provides a glimpse of possible dramas ahead; but the denouement of those dramas remains to be written.
Image: PA