By 48-36% British people tend to think that UKIP is here to stay – but Conservatives say Mark Reckless was more badly behaved than Douglas Carswell
The opening of the Conservative Party conference on Sunday was mired by a double blow, as the second MP in two months defected to UKIP and a cabinet minister resigned after a sting operation by the Sunday Mirror. Unlike the Tories' first loss to UKIP, Douglas Carswell, whose defection was received as an act of conscience, UKIP's new man for Rochester and Strood, Mark Reckless, was shown no mercy, and a succession of senior party members lined up to condemn him.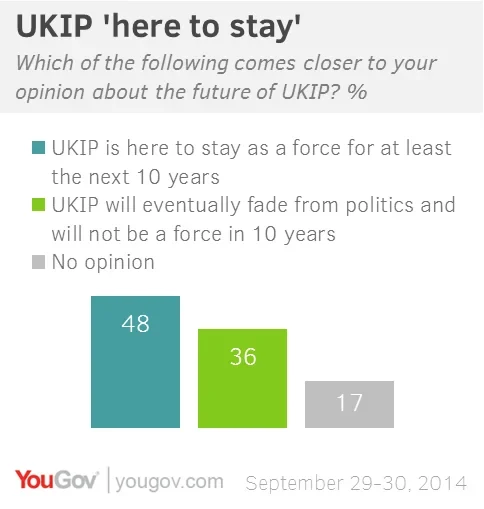 Ever since Mr Carswell resigned there have been rumours of more defections, raising media attention towards UKIP to levels not felt since the European elections in May. At the same time, new YouGov research reveals that UKIP are no longer seen as a flash in the pan to voters.
48% say that Nigel Farage's party is here to stay, and will likely remain an important part of British politics for at least the next 10 years. Conservatives, currently suffering the biggest losses at the hands of UKIP, are most likely (51%) to see them as a permanent force. By contrast, 36% feel the party will eventually fade out of view in the next ten years.
Mr Carswell is expected to keep his seat in Clacton on October 9; it is also possible Mr Reckless could keep his nearby seat. This would leave UKIP already with two seats, and the capacity to win more in 2015. The most popular prediction by British people who make one is three to five seats for UKIP (30%), but another 50% expect them to get at least six. UKIP voters themselves are highly confident, with 34% of those with an opinion predicting more than 20 victories for their party next May.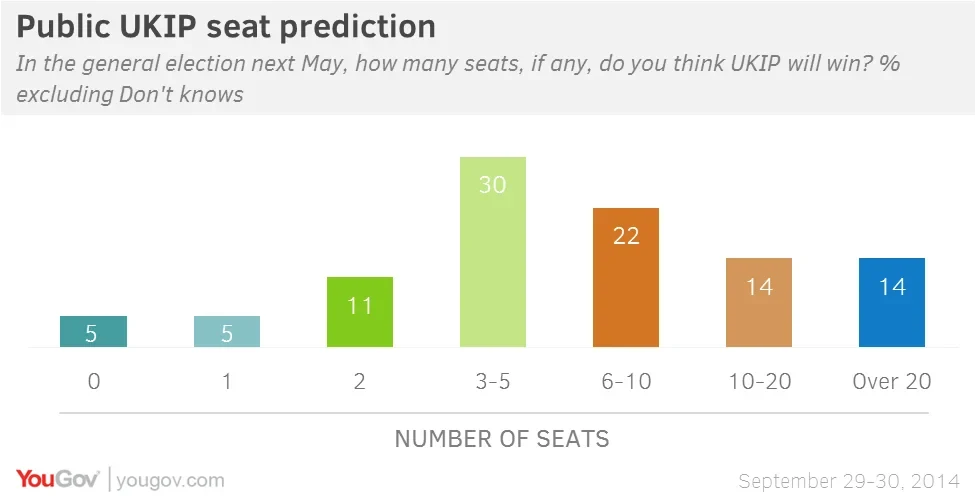 Defections
David Cameron has called both the Clacton and Rochester MP's defections equally counter-productive, however he also suggested Mr Reckless's would not be much of a blow to the party as he "rarely voted with the government". Mr Carswell's departure, on the other hand, was felt as a greater loss.
There is a small reflection of this in public opinion, with Conservative voters in particular more likely (58%) to condemn Mark Reckless's behaviour than Douglas Carswell's (46%).
Yesterday the two MPs were joined by former Conservative Deputy Mayor of London, Richard Barnes, who decided to join UKIP after saying the three main parties did not "speak the language of normal people". The news of Boris Johnson's one-time right hand man leaving the party came as the Mayor was preparing his speech to the Conservative Party Conference.
Image: PA