40% of British people think the Conservatives would eliminate the deficit by 2020 – but only 17% think Labour would
Both the Labour and Conservative party conferences opened with deficit announcements this year, as Ed Balls said he would cap child benefit and raise wealth taxes to eliminate it by 2020 and George Osborne proposed a real-terms cut in most benefits and closing tax loopholes to do so by 2018. However, George Osborne's timetable has already slipped – in 2010 he said the deficit would be eliminated by 2016 – and Labour's is noticeably more lax than the Tories'.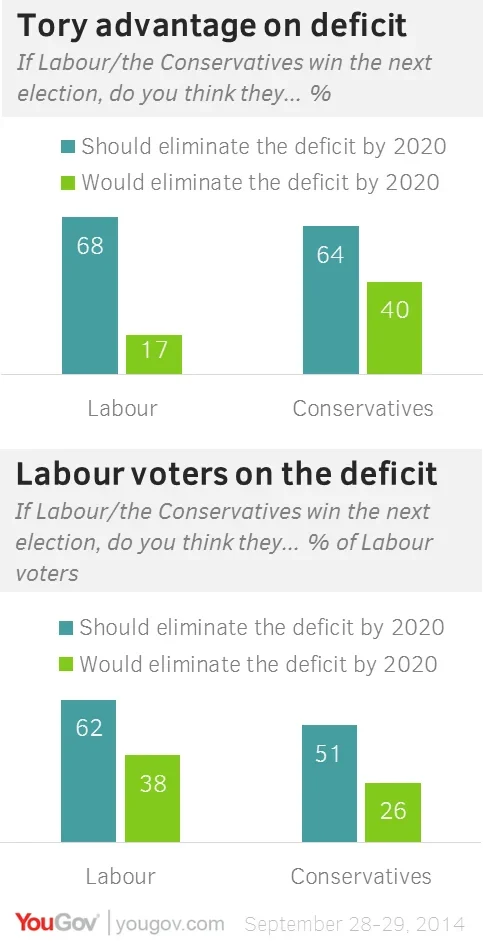 New YouGov research looks at public confidence in the two parties' ability to act on their promises and bring Britain's finances into the black by 2020.
Support for doing so is high for prospective Labour and Conservative governments, with 68% and 64% of British adults saying each party should eliminate the deficit by 2020. In both cases, the most popular option is actually to rid Britain of it by 2018.
But the Conservatives have a clear advantage on perceived ability to deliver. 40% say the Tories will manage to balance the books by 2020, while only 17% think Labour will.
Labour voters themselves are less keen on the Conservatives eliminating the deficit by 2020 (51%) than on their own party doing so (62%), perhaps because they believe Labour's cuts and revenue raising measures would be fairer.
Last Monday Ed Balls proposed a levy on houses worth over £2 million and a reintroduction of the 50p top rate of tax to raise money to pay off debts, while George Osborne's savings would come from a two year freeze on benefits paid to people of working age and reductions in funding to Whitehall.
Image: PA