The final part of a new YouGov study into love and relationships reveals how people who marry their first love are more likely to still be in love, to have never thought about breaking up and to be sure they will be with their partner forever
46% of British adults are married at the moment, and 27% of these (13% of the general population) are married to their first love. Marriages to second-loves are considerably more likely (36% of married people), and a further 25% of the married population have loved three or more people before their current partner.
A new YouGov study reveals that marriages untouched by prior love are stronger than more experienced partnerships in a number of respects.
As the first part of the study showed, unmarried relationships – more likely to be in their infancy – display a higher quality of love: 64% are definitely in love compared to 57% of the married population. Those who married their first love, however, are as sure of being in love as people in unmarried relationships (64%).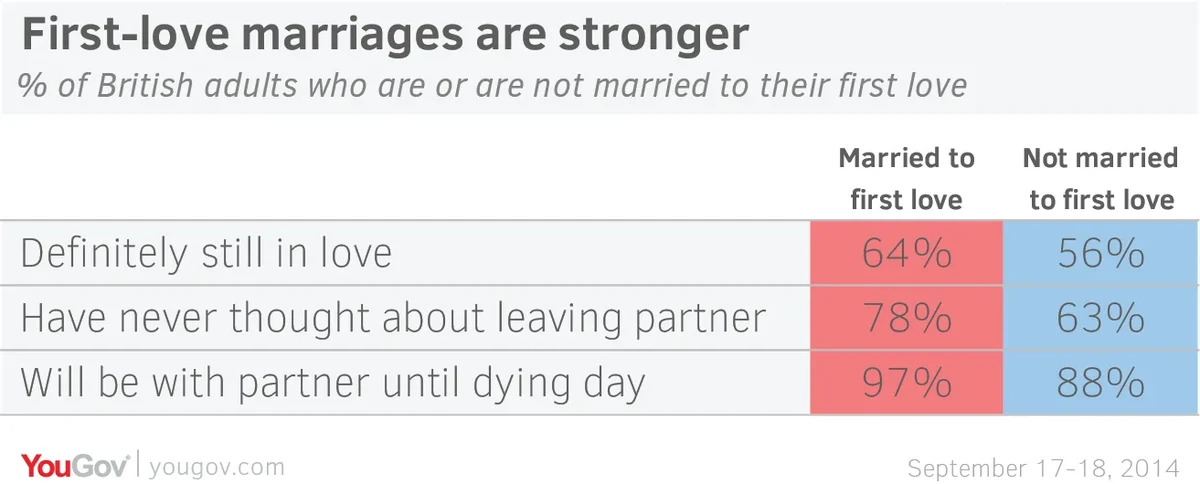 Only 19% of people in first-love marriages have considered leaving their partner; this compares to a third (34%) of married people who have loved before.
People who married their first love are also more likely (97%) to think they will be with their partner until their dying day than people who did not (88%).
Of course, this is partly a generational difference - older people are more likely to have married young (and therefore their first love), and some of the effect we are seeing may simply be down to generational differences on the view of marriage.
The study also finds some interesting differences in gender. Men are more likely to be sure they are in love with their partner (62% compared to 57% of women) and to find their partner sexually attractive (81% rather than 72% of women); likewise, 38% of women have thought about leaving their partner compared to 29% of men.