In just over six weeks public opinion has moved significantly in favour of RAF air strikes on ISIS – as well as shifting in favour of involvement in Syria
RAF Tornado jets positioned in Cyprus are expected to attack ISIS targets in Iraq today within hours of a Commons vote sanctioning UK involvement, after David Cameron announced he would recall Parliament on Wednesday. The Prime Minister has said he is "confident we will get this through on an all-party basis" – with the legality of intervention ensured by the Iraqi government's request for help, Labour will most likely back the motion.
YouGov has been tracking public opinion on British involvement in confronting ISIS since August 10, before the first video depicting the beheading of a Western captive by ISIS militants emerged. People divided 37-36% then, and support remained at around 40% until September 3 – a day after the second beheading video.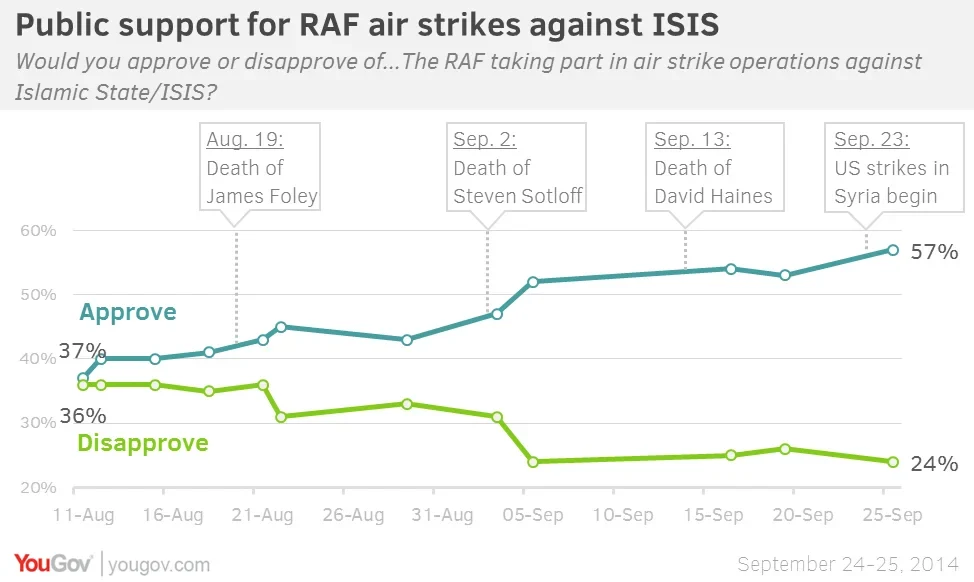 Since 5 September – after British hostage David Haines was named as the next potential victim – a majority has favoured RAF air strikes on ISIS. In the latest poll, conducted on the eve of the Commons debate, support is at its highest: 57-24%.
Syria
In the absence of a request by the Syrian government and a clear justification of self-defence, the legality of air strikes in Syria is more complicated than in Iraq. Even so, America's attacks there are approved of by 62% of British people, and over half of British people have supported RAF air strikes against ISIS in Syria since September 16.
Support for sending ground troops back into Iraq has remained low. 54% disapprove, with 24% now saying such involvement should be ruled out completely.
It has been made clear that today's motion "does not endorse air strikes in Syria" and that "any proposal to do so would be subject to a separate vote in parliament". Neither does it propose the deployment of combat troops on the ground following air strikes by the RAF. David Cameron warned yesterday in a speech to the United Nations general assembly in New York that Britain must not be "frozen with fear" of repeating the mistakes of the last Iraq war, and defence secretary Michael Fallon said the UK must prepare for a campaign perhaps lasting two to three years.
Image: PA